Heat Maps Open Up New Perspectives
Daily bike routes and heat maps can contain important information for urban planning concepts. Cycle route logs make behaviour patterns visible in heat maps. The generated heat maps produce a new, more exhaustive map of our urban environment and allow to see the overall picture, as for example: "There should actually be a bike path in that area".
Urban areas are a hub of activity, transition and living for millions of people around the world and represent hotspots of constant movement. The distances people cover every day often involve obstacles or cost a lot of time. These everyday routes can, however, contain important information on how to improve urban planning concepts. For the realisation of such improvements, the information on why, when and where people ride their bikes plays an important role. The current method of data collection is carried out with the help of bike counting stations, which require high acquisition costs and often tedious, even manual evaluation.
Heat Map Shows a New Way to See the Infrastructure of a City
Bike Citizens sets you on the right track and leads the way towards a more liveable urban space. Our approach is to use the information from anonymous cycle route logs from the bike app Bike Citizens to gain important insights into the behaviour patterns of cyclists. By making these patterns visible in heat maps, we can provide helpful recommendations to urban planners and facilitate a constructive design of urban living space that allows each and every cyclist to contribute to the project.
App users can choose to transmit their personal cycle route logs, thus making them available for urban planning purposes. This information, which is experienced first-hand by the app users and then rendered anonymous, is evaluated in heat maps and displayed from a bird's eye view. For the cyclists it is very easy to log their routes while cycling, even when the mobile phone is kept in a rucksack or bag during the ride. However, with the Finn smartphone mount it is just as simple and handy to attach the phone to any handlebar.
The generated heat maps produce a new, more exhaustive map of our urban environment. They allow us to see the overall picture by visualising behaviour patterns: "There's a traffic jam here every morning", "There should actually be a bike path in that area" or "I never feel quite safe at these crossroads!" Such experiences can influence urban planners in the making of favourable decisions and contribute to the implementation of the necessary improvements (such as building measures to prevent traffic congestion).
Berlin, Bremen, Vienna and Graz Already Have Their Own Heat Map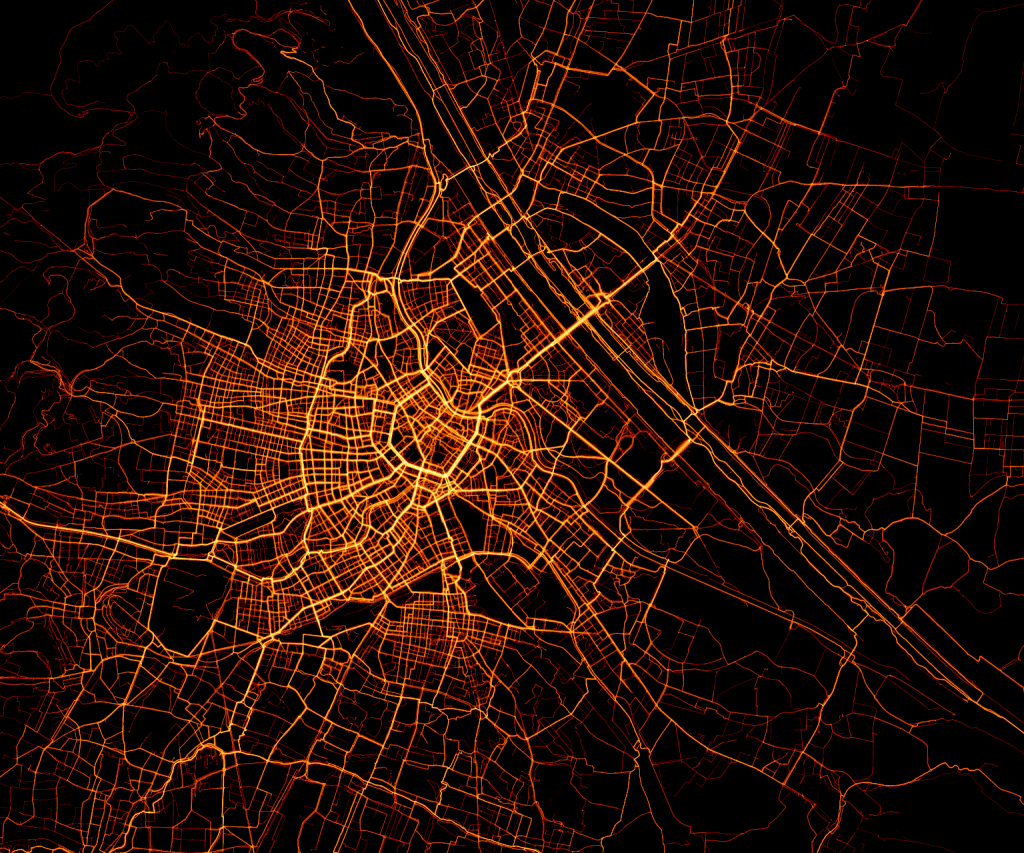 Vienna's bicycle friendliest streets displayed in a heat map.
For the cities Berlin, Bremen, Vienna and Graz such heat maps already exist, but there is still room for improvement regarding the amount of data available. This is why we invite all cyclists to participate and add their personal experience to the overall picture, in order to actively shape their living environment. Since personal bike logs are not only valuable for urban planning purposes, but also constitute the property of the respective user, it is he or she alone who decides if and how their logs are made available. Users may just as well refuse to transmit information altogether. In either case the data is treated as strictly confidential, rendered anonymous and additionally edited by cutting off 100 metres of the starting and end points of each logged cycle route.
By deciding to take part and share their individual records all participants can gain something – an active role in the design of their home town, improvements in urban planning and a more liveable urban space!
Image © Bike Citizens
Discover the world of Bike Citizens > magazine.bikecitizens.net