Faster at your destination: New data planning tool for bicycle traffic
German cities have plenty in the pipeline over the next few years when it comes to bicycle traffic: inner city bicycle lanes are being built, express lanes such as the RS1 Ruhrschnellweg are facilitating more commuter traffic on bikes and there is a general move towards increasing modal split of cycling. The National Bicycle Traffic Plan (NRVP) in Germany will provide 3.2 million euros until 2020 towards bicycle traffic projects. But which improvements do these measures bring? A bicycle lane where no one rides their bike, missing connections and long waiting times at crossings are only half effective.The newly developed "Bike Citizens Analytics" data analysis tool will assist with bicycle traffic planning in future.
The more accurate the data, the more precisethepredictions
Bicycle and traffic counting devices are one of the most common methods of capturing bicycle traffic data today. They allow detailed, long-term observations of the dependency of bicycle traffic volume on the weather, time of day and time of year. The only disadvantage is that these counting devices only give knowledge about one specific place, do not provide live-data and even combined with concrete information of other records and surveys, simulation and evaluation are hardly possible. This works differently when taking digital tools such as the Bike Citizens cycling app into account. This anonymously captures data of urban cyclists through the representative user groups. A single journey is less significant to bicycle traffic planning, however multiple journeys one after the other provide an extensive network of information. More than 6 billion recorded kilometer build a strong basis for the Bike Citizens analytics tool.
Reliable and informative bicycle traffic data is difficult to obtain. Good planning is based on data and estimates. The better the data, the less guessing one has to do.
Which information does the Bike Citizens Analytics Tool deliver?
Why visualisation is becoming more popular
Individual figures and datasets are only useful when compared with other data records. For example, if the volume of traffic in different parts of a city are examined, figures and visualisation in particular are crucial. Tristram states: "Data visualisation is generally much more informative than figures". Visualisation methods such as heat maps give a quick, overall impression.
The newly developed Bike Citizens Analytics visualises for example the traffic volume per road section, preferred or avoided routes and waiting times in a city. The analysis from single road sections (bridges, crossings, start/ending points) and it's connections facilitates potential assessment for infrastructure projects. This way Bike Citizens delivered a simulation for Radbahn, a project which aims to build a cycle lane below the U1 tram highline in Berlin. An analysis of the road section shows that 1/3 of the time needed from start to ending point from Radbahn can be saved in comparison to the time needed in the current traffic surroundings.
Realistic planning with simulation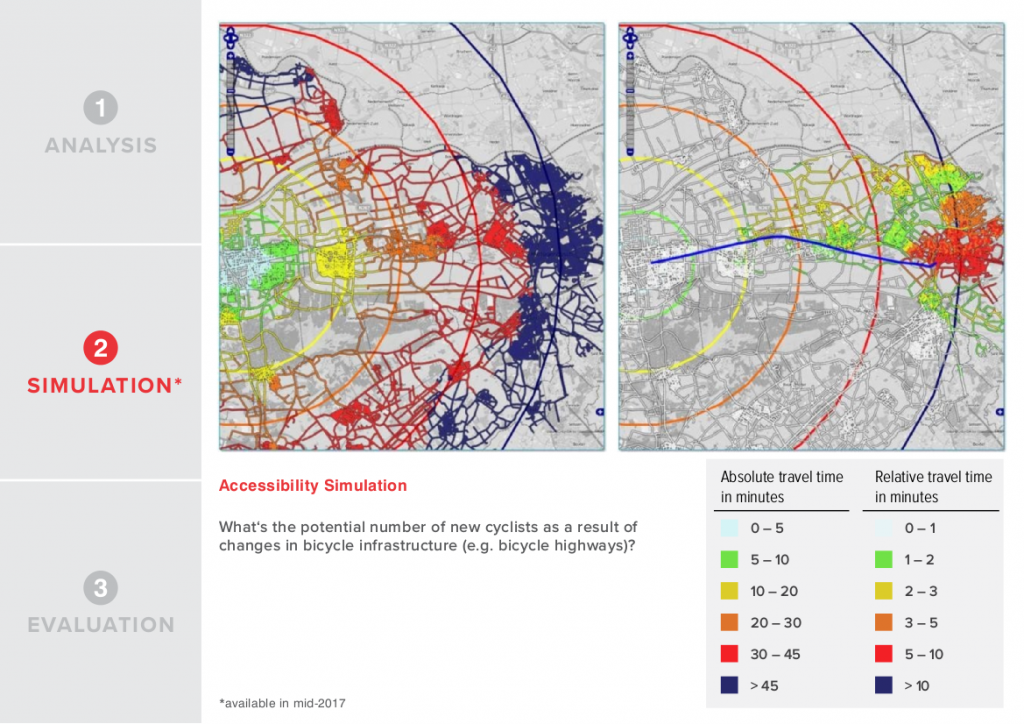 Thanks to Bike Citizens Analytics, current and future bicycle traffic can be realistically simulated. Measures such as building a new cycle path will be simulated and assessed in advance. With the tool potential regarding frequency and amount of cyclists can be assessed in advance. The same counts for important connections – the tool can asses if reachability of shopping areas, universities, … will be given with the planned measure. According to Tristram, such data analysis tools greatly improve the quality of bicycle traffic planning and support modern planning approaches based on the "Sustainable Urban Mobility Plan" principle (SUMP). Bike Citizens Analytics lays the foundation from a current-status-based planning to a demand-orientated planning.
What is Bike Citizens Analytics?
Bike Citizens Analytics is an interactive GPS data analysis tool for analysing, simulating and evaluating cycling data for future measures, developed in cooperation with the NHTV University in Breda. Cycling data generated with the Bike Citizens App can be loaded into the tool and processed. Besides that, external data (cycling data, public transport, …) can be complemented for simulation and evaluation. It is available in over 450 cities worldwide and a free demo version is available upon request for city planners, traffic experts and municipalities at info@bikecitizens.net.
The visual representation of the cycle traffic in Graz is one example how to use the tool.
More information on Bike Citizens Analytics: cyclingdata.net