The Best Bike Tours for your Summer Vacation in Europe
Even in Europe summer has arrived. For those who haven't already decided where to spend their holidays, we have made a selection of the best bike tours in Europe – all of them available in the Bike Citizens App. And the best thing about it? With our flatrate (19.99 Euro) you can download all city packages so that you are perfectly prepared for your adventurous city trip.
Barcelona, Spain

Bike Tour: Panorama Tour
Distance: 31,01 km
Duration: 1h 56 min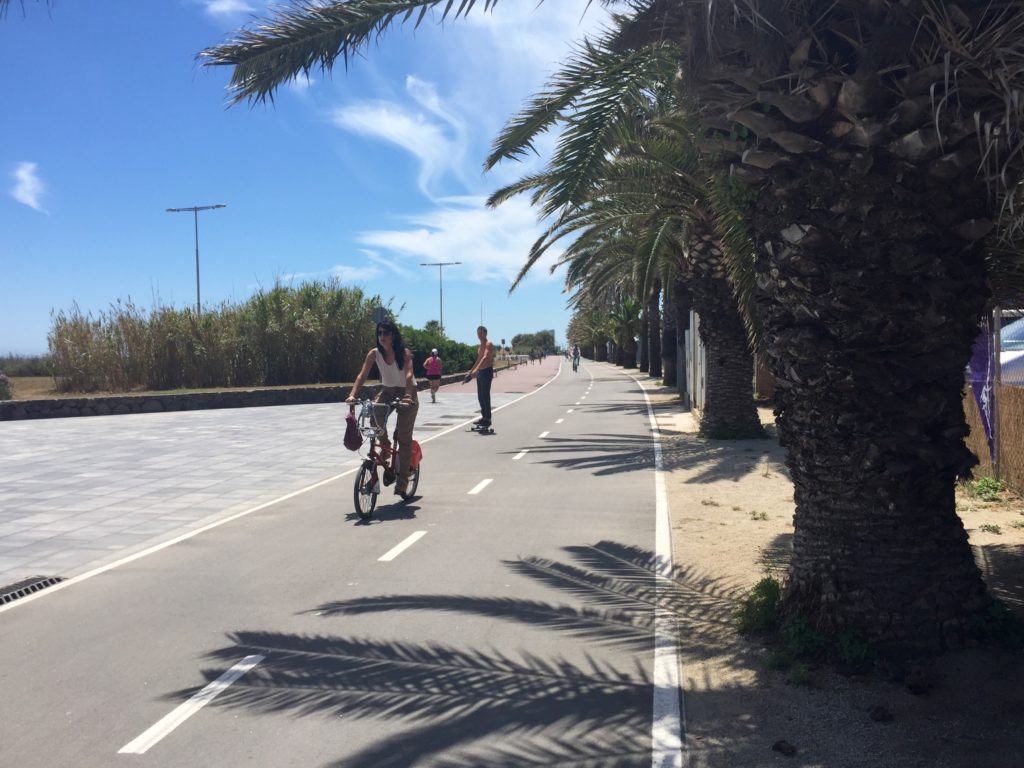 Photo © Nora Manthey
Three impressive panorama points in one tour: Park Güell, Torre de Collserola and Tibidabo. No wonder it made it to the best bike tours in our list. The magnificent views down to the city and the ocean are worth the effort of climbing almost 500 meters with your bike. Also, it's a great opportunity to get out of the city for a few hours, enjoy nature and take your time to relax. Tour runs clockwise and takes you about 2 hours (without sightseeing).
Hamburg, Germany
Bike Tour: Following the water to discover a dune
Distance: 26,6 km
Duration: 1h 39 min
Photo © Christian Baltrusch
Following one of Hamburgs less famous rivers, the Bille, you are going to end up at one of Hamburgs most beautiful lakes where the locals love to take a break and swim a little. The Boberger dunes, a true monument of nature, are situated right at the lake!
Prag, Czech Republic

Bike Tour: Two Tunnels Tour
Distance: 8,8 km
Duration: 32 min
The starting point of this route in Riegrovy sady offers one of the best views on Prague panorama. After going downhill you will use pavements and pedestrian crossings to get to a cycle path built a few years ago on former railway. You will leave this path and continue through the pedestrian tunnel to Karlín. After a while you will find yourself at a place called Prague Bronx. After it you will cross the renovated railway to then climb to the road bridge above these new railway lines. Then you will join the cycle path on the former railway from the opposite end. Here you have magnificent views over Prague. You continue through the bicycle tunnel back to Žižkov. You will leave the path at the same place where you did before. After climbing side streets you will see the TV tower and you will be back at starting point again.
Berlin, Germany
Bike Tour: The Green Berlin
Distance: 46,6 km
Duration: 2h 54 min

Some people in Berlin may say that one doesn't have to leave the city because there is almost anything you need. To make that even more authentically, there is a tour through the woods and along a chain of lakes, and all of this within the city boundaries. In the south-west of the city you will find the Grunewald and lots of lakes. Pack your bathing trunks, because there are lots of places where you can go swimming. And if you have forgotten your bathing trunk: the skinny-dippers have their spot at the Krummen Lanke.
Rotterdam, The Netherlands

Bike Tour: Kinderdijk's Windmühlen
Distance: 26,8 km
Duration: 1h 40 min

"The windmills of Kinderdijk are one of the best known Dutch tourist sites. They have been a UNESCO World Heritage Site since 1997." (Wikipedia). This tour isn't a round trip, so start this trip at city center and end your journey in the middle of the fascinating area of Kinderdijk, surrounded by old and beautiful windmills. If you ride at a normal speed, you reach your destination within 2 hours. More than 90% of the ride will be on cycle paths – which was clearly one reason for us to add it to our selection of the best bike tours in Europe.
Bern, Switzerland

Bike Tour: Embassies, Cows and Hippies
Distance: 15,6km
Duration: 58 min
This route guides you through the aristocratic hood "Kirchenfeld" before crossing the river "Aare" a first time on the "Dalmaziquai" bridge and leading out in the green through the small suburb "Wabern". Enjoy the fantastic view once out of the city cycling towards the alps and down to the little airport "Belp". Do not forget to get some fresh apple juice or freshly picked fruits from the farmers along the fields. Enjoy the beautiful riverside around this area and cross the river a second time on the "Auguetbrügg". In summer you will find river surfers, hippies and lovers up here enjoying rich BBQ's or wild parties! From here find your way back to the city center through another embassy hood "Elfenau".
Tour created by: Luki (Velokurier Bern)
Always prepared for city exploring
All of the tours are available in the Bike Citizens App after downloading the maps of your desired city.  And the best thing about it? With our flatrate (19.99 Euro) you can download, delete and reinstall as many city maps as you like – whenever you need them.  Like this you're best  equipped for your adventurous city trips.