Bike Citizens: How it all began
It started with an idea: An idea by two bike couriers to develop a bike navigation app. Motivated by their passion for cycling and knowledge gained as bike couriers, they began their "company start-up" adventure. Five years later, the team has expanded to around 25 people and the Bike Citizens services now ranges from the aforementioned bike app to a shop, a self-developed smartphone holder, an analysis tool for cities as well as a magazine for urban bike culture.
Going back to where it all started. European Cycle Messenger Championship 2010
The idea was born during the European Cycle Messenger Championships in Hungary, where bike couriers had to prove their skills across various disciplines (track stand, main race, gold sprint, etc.). During a tour through Budapest, one of the founders, Andreas Stückl, first had the idea of developing a tool to help people navigate around a city.

ECMC 2010 from PopeleiParade on Vimeo.
2011 – Company start-up
Back in Austria, things all happened very quickly. In 2011, the BikeCityGuide was founded by Daniel Kofler and Andreas Stückl with just 1,500 Euros in start-up capital. With technical support and with the help of a bike courier colleague and designer, the first prototype of the bike app was conceived, designed and programmed. In 2012, this was presented together with the city of Graz. By this point, the bike app already included special routing to navigate cyclists along the most bicycle-friendly routes between their start and end destinations. Features such as the terrain option, the "get-off-and-push" mode, tracking and the personal heat map would later be added.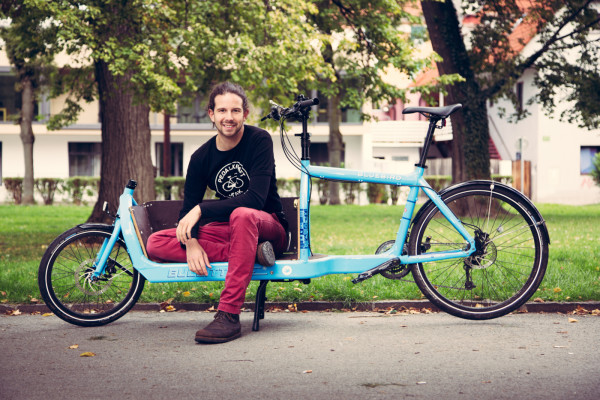 2012 – Partner cities
In spring 2012, Bike Citizens – then still BikeCityGuide – welcomed its first partner city, which has bought a license for the app. In addition to Austrian cities, cities in Germany and Britain have now been added to the list.
2013 – #ILoveFinn: the smartphone mount
The founders realised that no practical solution existed on the market for attaching a smartphone to the handlebars. In early 2013, the team bet all their cards on a new idea: a smartphone holder developed in-house. 25,000 euros and four prototypes were invested in the development. The universal Finn smartphone holder, "made in Austria", has since become a favourite of many cyclists, with around 400,000 sold and winner of the 2014 Eurobike Award. In autumn 2015, the online shop range was expanded to include bike accessories which have been rated by the Bike Citizens team as particularly practical, nice or well-designed.
[su_slider source="media: 4468,6728,4474,5535″ limit="9″ target="blank" width="560″ height="320″ title="no" pages="no" mousewheel="no" autoplay="2000″ speed="1″][su_slider source="media: 8421,8413,8419,8415″ target="blank" title="no" speed="10″][/su_slider]
2014 – Bike Citizens expands to Europe and Australia
After starting with just five Austrian cities, the app is now available in more than 400 cities in Europe, Australia and the USA. The map-based "OpenStreetMap" lay the foundations for a simple expansion of city maps. For each new city, Bike Citizens works together with local bike couriers, lobbies and organisations. Route feedback allows each city to be changed and optimised. Bike Citizens opened its second branch in 2015 and serves the British market with support from agents. A balance between leisure and productivity is very important to the 25-strong team, which is why they introduced a 4-day week as of summer 2014. In 2015 they were presented with the XING New York Award for their successfully implemented concept.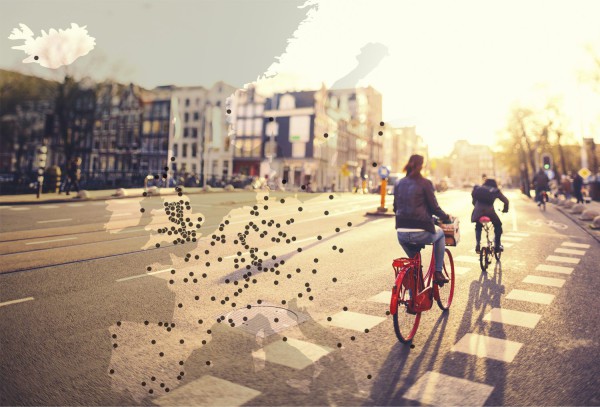 2015 – BikeCityGuide goes Bike Citizens
For a long time, it was queried whether the name "BikeCityGuide" was still appropriate for the objectives that the company was following. The business unit had become much larger than when the app idea was originally created. The founders realised that they had exceeded their growth limits: They were often just called "CityBikeGuide" and "CityGuide" in the English-speaking world. This and many other reasons caused the company to reinvent itself in April 2015: Bike Citizens was born. Today, Bike Citizens remains free from borrowed capital and therefore allowed private persons to invest in the company's success via Green Rocket Crowdinvesting.

2016 – Research and conference leader
Bike Citizens has experienced the boom it desired ever since. Since its relaunch, the app has been downloaded over 425,000 times and, in April 2016, the number of weekly active users exceeded the record month of the previous year. The two founders shared their success concept and the results of various research projects in the area of mobility as speakers at international congresses such as the Velo-city and the European Navigation Conference held by the European Space Agency. With respect to the latter, a feasibility study was initiated in 2015 as part of the ARTES Integrated Applications Promotion programme. Bike Citizens has many new exciting features and tools planned for the next few years. Stay tuned!
Fotos © Bike Citizens