Bike Citizens on Tour in the US
Follow our co-founder Andreas Stückl and Paul Mayer on their tour through the US. They'll make three stops in 16 days: New York City, Interbike Expo in Las Vegas and the Nacto conference in Seattle. See the US through their eyes. Enjoy your rides - they will do it for sure!
1st stop: New York, New York

16.09.2016 – The first stop on our journey is New York City.
Right after we've arrived we hired some bikes from Ride Brooklyn and made a tour through the city. Check out our images and video.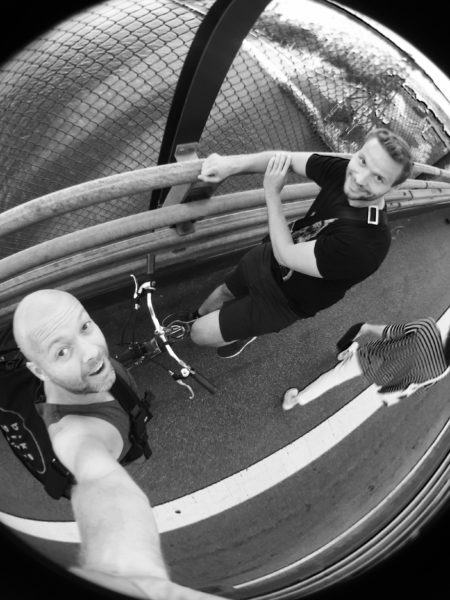 Andi and Paul riding the Brooklyn Bridge.
[su_slider source="media: 9943,9934,9924″ limit="9″ target="blank" width="560″ height="320″ title="no" pages="no" mousewheel="no" autoplay="2000″ speed="1″][su_slider source="media: 8421,8413,8419,8415″ target="blank" title="no" speed="10″][/su_slider]
We're impressed by New York's beautiful skyline.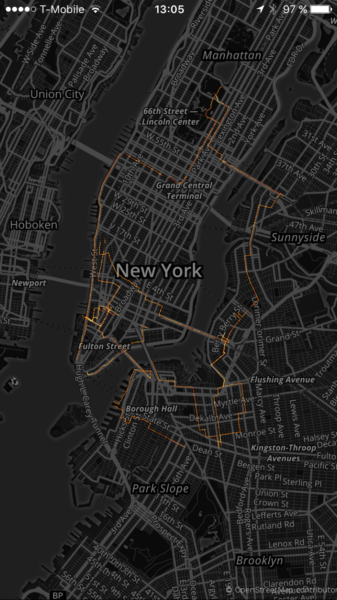 Andi's and Paul's personal Bike Citizens Heatmap is getting more colorful – new Wegschatz points ahead!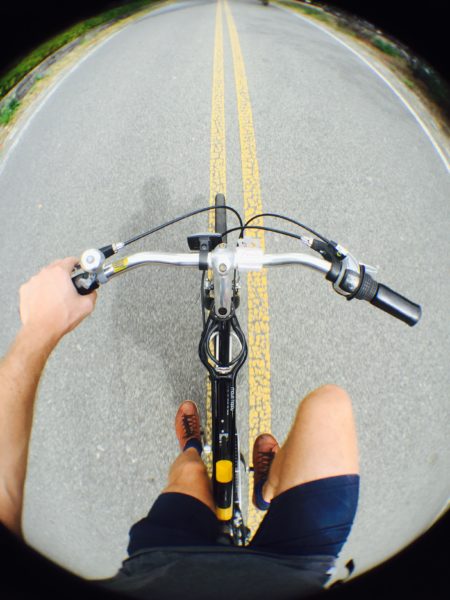 19.09.2016 – We're on the road to meet Sam Schwartz. Soon you can read about their vision for the future of modern US cities in our magazine.
19.09.2016 – Review: This was our awesome trip through New York by bike.
2nd Stop: Las Vegas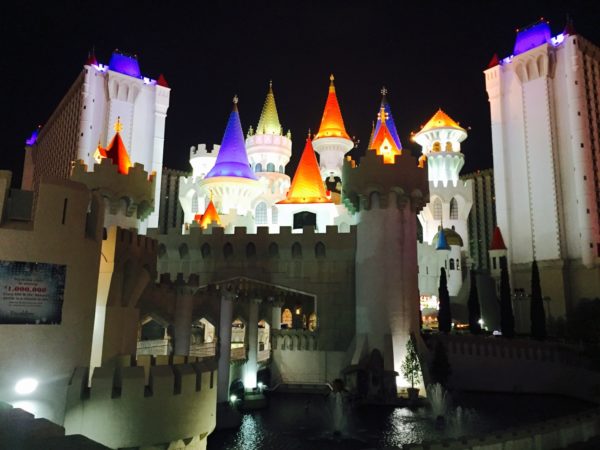 21.09.2016 – Paul and Andi's residence, totally befitting their social status.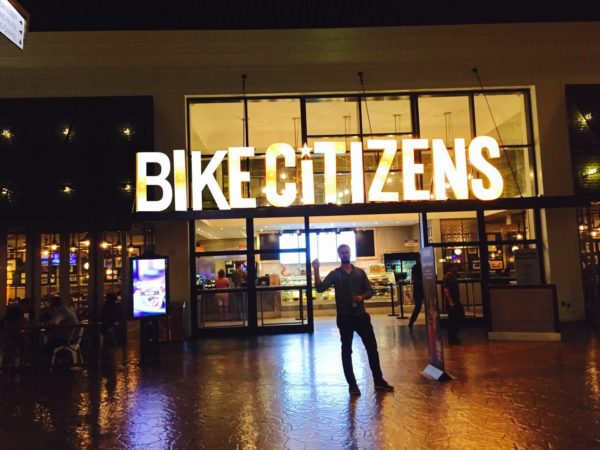 Bike Citizens just arrived in Las Vegas to open a flagship store or is it just a damn good photoshop thingy? Stay tuned…
24.09.2016 – Leaving Las Vegas
After having a great time in wonderful New York Paul & Andi "needed" to fly to Las Vegas for Interbike Expo, Americas largest bicycle expo, looking for US distributors in order to sell our FINN smartphone mount in the US. Actually Andi would have liked to show you some more cycling videos but to keep it short: There is no cycling in Las Vegas, this city is totally build for cars and gambling, even pedestrians need to take large detours when crossing streets. Realizing a bicycle expo in Las Vegas can be compared to realizing a gourmet food expo in Somalia, ridiculous! So they fixed their business deals and yesterday went to Seattle for the upcoming NACTO conference on sustainable cities. They're really looking forward to it.
3rd stop: Seattle
Last Stop: Seattle – 5 days of exploring, cycling and testing our app.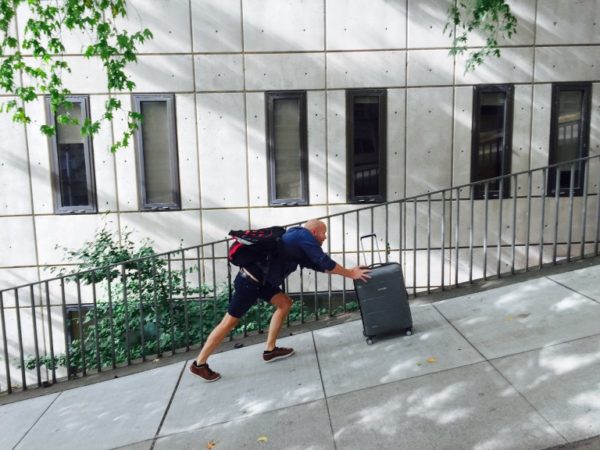 Arrived in Seattle. Andi is fighting against steep hills and mentally prepares for some ambitous bike rides through town.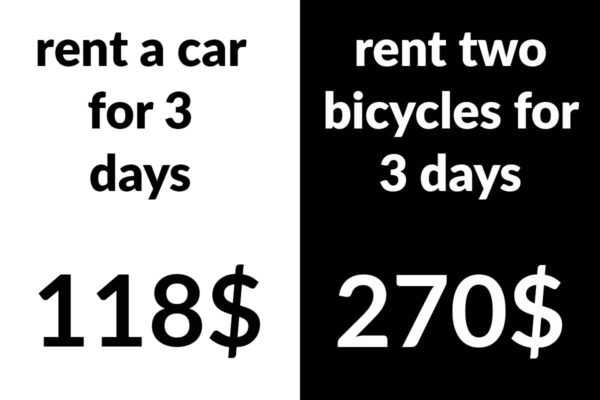 Quite disappointing to see this comparison. Andi did a small research as he and Paul wanted to rent bicycles for the next days in Seattle to get around. Thanks to a 2014 installed public bike share system they finally found a suitable alternative and now enjoy Seattle on wheels…stay tuned!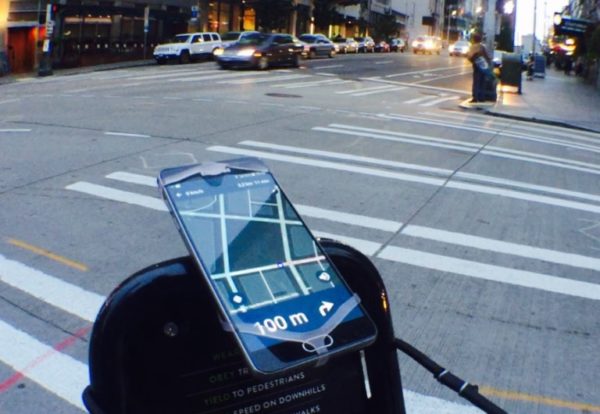 Discovering the streets of Seattle with our Bike Citizens app.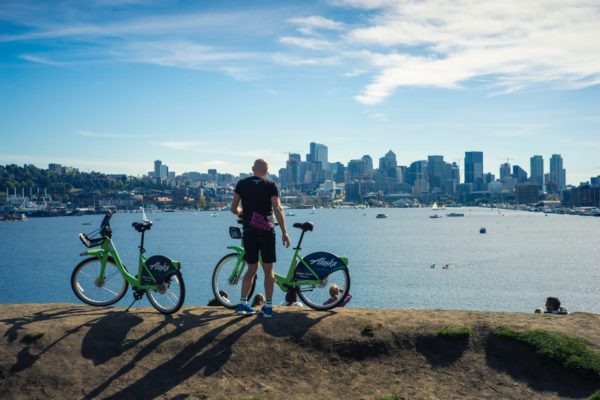 Paul and Andi down to the 'Gas Works Park' with our bike-sharing bikes and getting rewarded by that fantastic skyline view.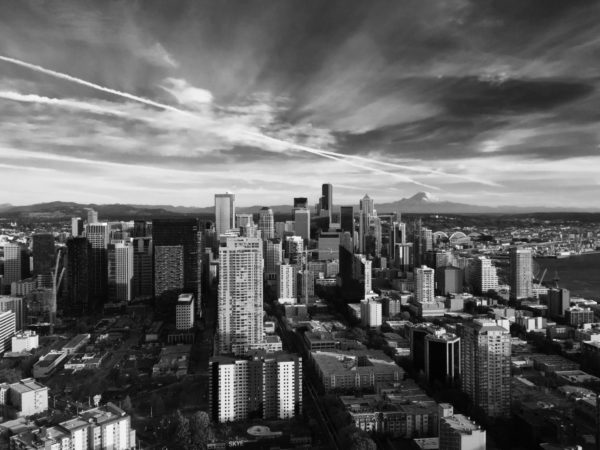 Sunday before sunset. Paul and Andi went up to the 'NEEDLE', getting the best view on Seattles skyline and Mount Rainier.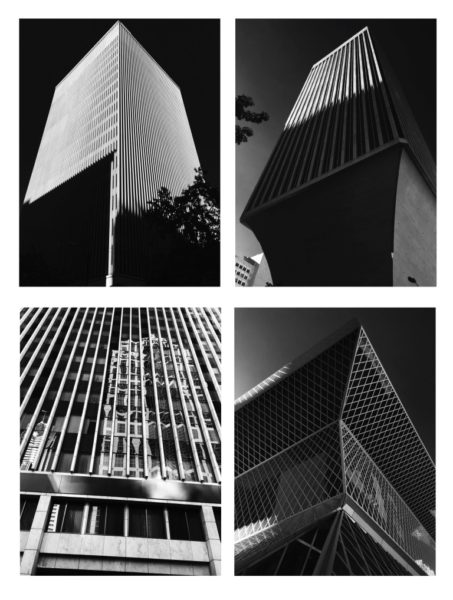 Andi is getting around Seattle on bicycle, exploring its architecture.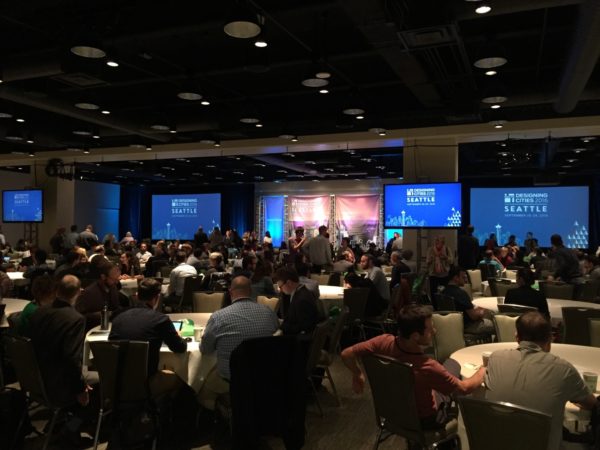 On Monday NACTO conference started. It's a huge meet-up for discussing key trends in urban street design and transportation policy. Paul and Andi will connect with urban planners and cycling commissioners to talk about promoting urban cycling, gamification and behaviour change processes in order to transform future cities. Especially our heatmaps and data analysis received lots of interest.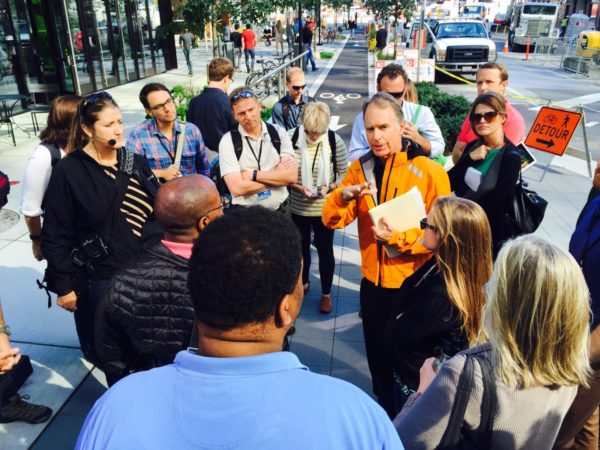 Paul and Andi went to a 'walkshop' with other urban planners to get an insight to Seattle's effort, creating a save bicycle infrastructure. Although it's not comparable to Amsterdam and Copenhagen infrastructure, some of US-American cities slowly but surely will catch up.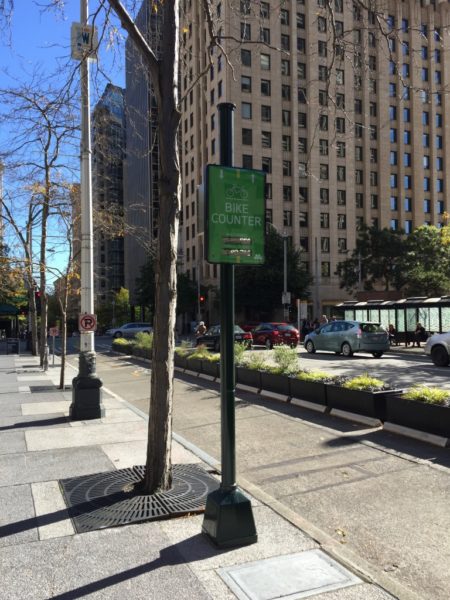 A bike counter in Seattle. By end of September around 42.000 cyclists passed by this counter. That's actually not that many. Even in Portland, top rated bike city amongst the US, not more than 7 out of 100 trips are done by bicycle. Streets back then in the 50s were build for cars, not really for people, but nowadays planners rethink, trying to increase bike trips and public transport in order to create sustainable & livable cities. First steps have been taken, many more hopefully will follow.