Box Bike Helsinki: Cargo Bikes Made by Youngsters
Markus Seppälä, project manager at Box Bike Helsinki, recently started a cargo bike project making cargo bikes more attractive for teenagers in Helsinki. In this article he shared the progress of this great project with us:
Helsinki: Public Transport, Walking and Cycling in the Center Stage
A few months ago we launched a new and terribly ambitious project to get Helsinki teenagers excited about cargo bikes. A tall order, plus a challenging time of the year to do anything bicycle-related in Finland, since 80 % of cyclists in Helsinki usually give up cycling in October-November to start again in April. This is partly because the winter months are not generally regarded as traditional cycling season but also because the majority of cycling lanes are not usually kept in a rideable condition during the snow-ice period.
In general, Helsinki suffers from the same noise, air pollution and traffic congestion problems than any other larger city where the infrastructure and city planning has traditionally emphasised the convenience of the car and its driver. Fortunately, the Helsinki metropolitan area has started taking steps to bring public transport, walking and cycling to the center stage. To mention just two, we are expecting dedicated two-way cycling lanes and dedicated "highways", plus Helsinki will launch its brand new citybike system in the beginning of May 2016.
The cycling youth and adults have been adding interesting new flavours from the rich international cycling culture to liven up our streets. We have an active fixie and single speed-conversion community, DIY bike kitchens, Tweed Runs, Critical Mass events and so forth. Cyclist organisations are getting more members and more active and organised, which is putting the pressure on cities officials to design and build better and safer infrastructure.
In order to keep Helsinki, or any other city's residents, on their bicycles, this warrants for constant recruiting of new cyclists on the streets. Meaning that we have to teach and excite the coming generations to ride bicycles and make it a natural part of their everyday life.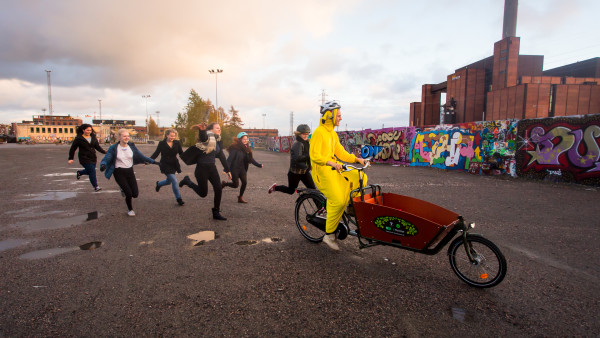 Encouraging a New Generation of Cyclists to Use Cargo Bikes
In the end, Box Bike Helsinki sprouted from a very simple idea: What would cargo bikes designed by urban teens look like? Traditionally, the cargo bike industry has designed and manufactured bikes for only three or four different client groups with their specific needs; the family with small children, the mobile café entrepreneur, the local butcher or baker and lastly, the shipping company.
We, in the Nature League Uusimaa district, started to plan a new environmental education project for Helsinki teens in the early part of 2015. At the same time we wanted to show everybody that Nature League is always open to help you realise even the craziest ideas.
I wanted to make the project bicycle-oriented, because at that time I was really into anything even closely related to cycling, and I still am.
Now, think of your average active urban youth; He or she may have several weekly activities that require transport a lot of gear with them (e.g. musical instruments, ice hockey and other gear oriented sports). If you are not old enough to drive and borrow your parents car, the choices you have is to rely onto your folks to drive you there or cram yourself and your over-sized pack in a bus or tram. If the distance there and back is within reason, I would seriously consider asking my parents for a bike that could easily carry up to 100 kg (220 lbs) of equipment. Instant win-win situation if any, also for the parents who gain more free time for themselves.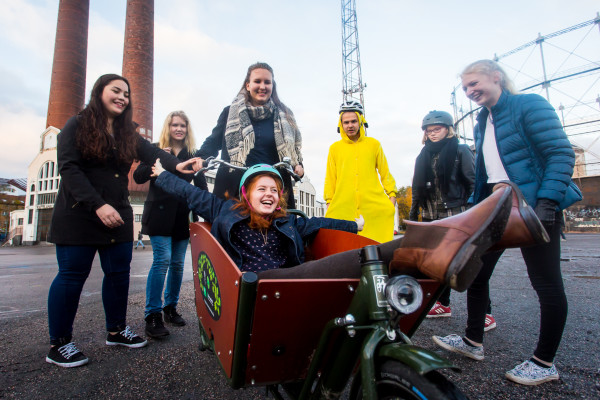 Box Bike Helsinki gives a team of Helsinki teens (Jami, Henry, Oliver, Kiril, Ville and Roope, or as they are called at their youth houses, The Boss Youths) the chance to design and build a unique cargo bike, specific for their own needs. To help us make the project even better, we have Helsinki Cyclists provide us a course in safe city cycling and the local Bike Kitchen, Pyöräpaja takes us through everything worth knowing about bike maintenance. This way we are ensuring the finished bike will be kept in good working order in the future.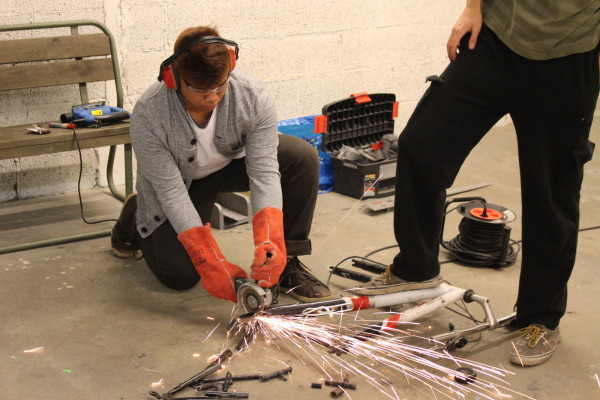 At first, we were really hard pressed to find a suitable workshop, but then suddenly we hit jackpot: Helsinki Underground Bikeshop, whose owner Henri welcomed us to his bikeshop / DIY workshop, which as a huge plus looks like a regular youth house with a huge graffiti wall.
The project started with weekly design and building sessions at the end of January. The build will be ready in late May – early June. An event will be hosted where we reveal the bike to invited guests and media. The finished bike will be donated to the youth house where the team members are active. And when the house has no need, the bike is open for the local residents to borrow.
Box Bike Helsinki aims to show urban teens a novel way considering the possibilities a humble bicycle can provide for their daily personal transportation needs. As you, the readers already very well know, with a bicycle you can set your daily timetable in your own terms. You don't need to depend on the set timetables of the public transport system or your busy parents and mates. And maybe, just maybe, some teens make the decision to get a quality bicycle instead of one of those god-awful moped cars. One can always hope. Follow the project's progress on Facebook and Twitter (@BoxBikeHelsinki).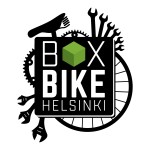 Image © BoxBikeHelsinki & © Teemu Saloriutta