Cycle4Value: A cyclists dream.
You bike to work, work eight hours and you go home again, by bike. For over more than seven million Germans a daily routine. But how can we stimulate more people to do this and in the meantime reward those who are doing it already?
Old thoughts, new ideas
Bike Citizens has been working with this concept for a few years now. After many successful Bike Benefit and Bike2Work campaigns in partner cities, Bike Citizens has now started a test phase of a program called: Cycle4Value. Together with its technical partners, Danube Unversity Krems, yVerkehrsplanung and Seewald Solutions, Bike Citizens has developed a rewarding tool for cyclist based on Blockchain technology (Ardor network, Ignis childchain)". The campaign is being tested in the Austrian cities Krems and Graz with Café Virginier (Mensa, Krems) and Ducks Coffee Shop (Graz) as participating shops for the redemption of Cycle Tokens.
Cycle Tokens
Although the background is very technical, the idea is easy: With every bicycle ride, the Bike Citizens app calculates how many Cycle Tokens you get deposited on you digital wallet. What makes Cycle4Value unique, is that you can exchange your tokens for real products and in the meantime your "real wallet" can stay inside your pocket. The method of calculating how many tokes one receives is rather complicated ( and top secret 😉 ) but 1 token is approximately one Euro. Besides your digital wallet, the app also provides a marketplace for retailers to offer their products or services you can buy with your tokes.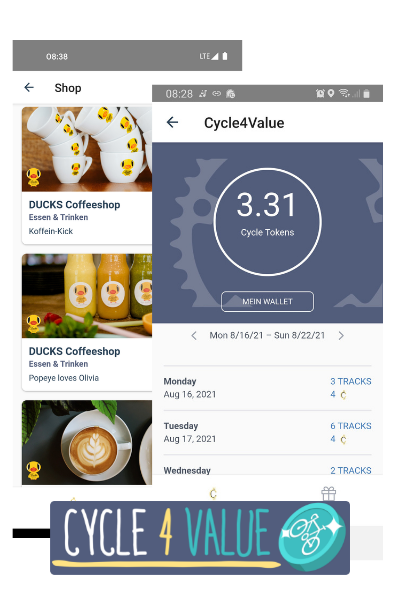 Machine Learning
Now, we can hear you think: "lets take a ride in the car and start making some money!" Fortunately, that does not work out! The app uses sophisticated machine learning methods to measure your tracks and to validate whether or not this was performed by bicycle. Meaning no place for cheating!
Other rules like maximum four tokens a day make sure that your weekend speed racing tracks will not have a huge impact on your digital wallet.
The idea here is to make sure you go by bike multiple times in the week rather than cycling a large distance on one day.
Testing phase
As mentioned before, the project is currently in the middle of a testing phase. Testing is done with a selected group of cyclist, so unfortunately not open for everyone (yet). But it is already looking promising! You want to stay up to date about this project and other projects of Bike Citizens? Make sure you are subscribed to our newsletter!