Chance of Rain: New collection of cycling apparel launched
A few months ago we visited the berlin-based designer Antoniya Ivanova in her home-office and talked with her about Berlin as a hub for cycling fashion. Now she has presented her new lable Chance of Rain, specialising in urban cycling apparel, for pre-order on Kickstarter. Honored with "German Design Award 2016" for "Excellent Product Design" the collection offers solutions for the fashion-conscious urban cyclist, rain or shine.
Antoniya Ivanova´s brand Chance of Rain has been garnering attention internationally for her fashion-forward, innovative designs, which blur the lines between functional and fashion apparel, as it is also the case with her newest release. The Alex Trenchcoat and Laura Cape are timeless yet modern pieces made from high-quality water-repellent and breathable fabrics and provide protection against rain without sacrificing style. Functional details like side slits with reflective details, adjustable cuff lenght and detachable hood make the ride effortless. Here is a preview:
[su_slider source="media: 8773,8770,8768,8764,8762″ limit="9″ target="blank" width="400″ height="600″ title="no" pages="no" mousewheel="no" autoplay="2000″ speed="1″][su_slider source="media: 8421,8413,8419,8415″ target="blank" title="no" speed="10″][/su_slider]
Alex Trenchcoat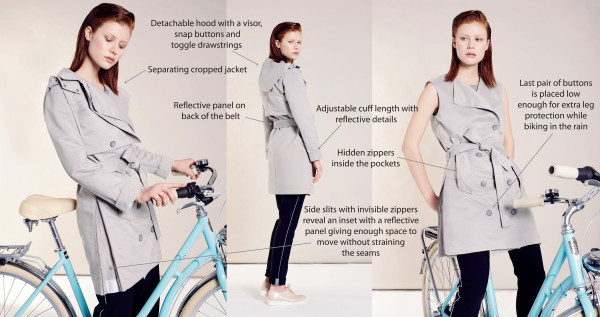 The Alex Trenchcoat consists of a cropped jacket that is worn over a long vest – that offers a variety of looks for different weather conditions and occasions.
The Laura Cape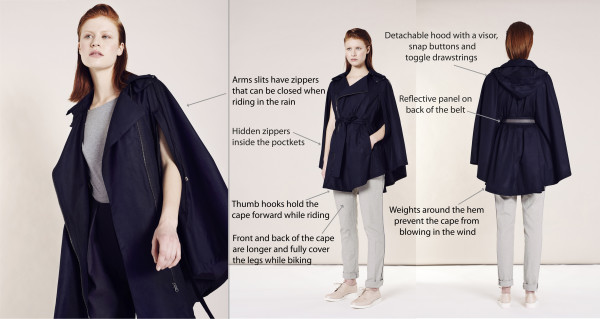 The Laura Cape offers effective protection whilst riding in the rain through arm slits with zippers and hidden thumb hooks which hold the cape forward. The lightweight fabric elegantly flows around the body while weights around the hem prevent the cape from blowing in the wind.
Those who wish to support the project can pre-order on Kickstarter until 11th of June and will be the first ones to receive pieces from the new collection. The collection of cycling apparel includes the Alex Trenchcoat ( available in black and stone grey), Laura cape (available in black) and additional cycling accessories like bike seat covers and cycle-related printed T-shirts for all the bike lovers.
Image © Monika Maslanek for Chance of Rain
Text © Chance of Rain