"Adelaide is one big playground for local cyclists"
Who? Where? When and How? – We have all the answers! Just read on to get all the essential information you need to know when cycling in Adelaide. Ryan Waddington, a local rider and triathlete, shares his experiences about riding in Adelaide.
Aperitif – Adelaide in General
The city of Adelaide has long been the home of Australia's high performance cycling program. The result? A bike friendly culture with infrastructure that supports all cyclists. Adelaide has a population of 1.3 million people although you wouldn't know it. The roads are never congested. Sandwiched between hills and coastline the city is the perfect place to ride from. The city and the coast are flat. Very flat. This makes cycling in Adelaide pleasantly easy. Adelaide also has a reputation for diverse and high quality food. Cafes and eateries are plentiful within the city. These are best enjoyed after a ride!
Tips and tricks
Weather in Adelaide is reasonably predictable. Summers are hot and dry while winters are cold and wet. Cycle tourism booms in January with the internationally renowned Tour Down Under. This is the most exciting time to be riding in Adelaide. If travelling to Adelaide in the summer then sunscreen is essential. The UV index is usually extreme and the temperature commonly reaches forty degrees centigrade.
Bicycles can be hired for free from Bike SA. A list of hire locations can be found online. You will have to leave your driver's license or passport for security. Bike SA will also provide you with a helmet, which you are legally obliged to wear in Australia. Inner city cycling has been made safe with the provision of dedicated bike lanes running along all major streets. Riding on the footpath is now a legalised alternative to aid the safety of cyclists.
Surrounding the city itself is Adelaide's greenbelt. Paved cycling paths within the greenbelt make for a scenic loop of the city. This loop is labelled in most places and relatively straight forward to follow. Riders will enjoy a round trip of approximately twenty kilometres depending on how many scenic detours are taken.
Exploring beyond the city limits makes it a little more difficult to stay exclusively on bike paths. Riding on the road is generally very safe. There are three main options beyond the city; the coast (west), the McLaren Vale wine region (south), and the Adelaide Hills (east).
Where to ride in Adelaide
Coastal Riding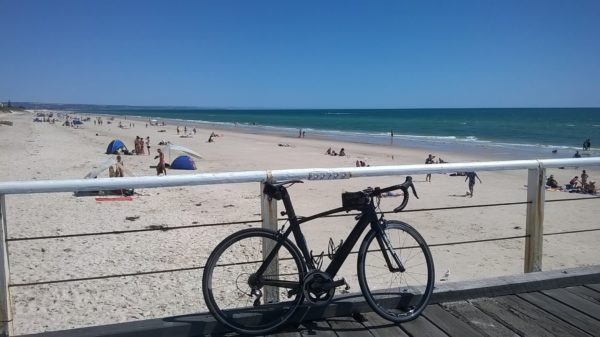 The coastal trail runs approximately thirty kilometres from the suburb of Brighton in the south to Outer Harbour in the north. The path parallels the coastal road and has a number of points at which cyclists will have to merge onto the road. Rest assured that this is Adelaide's most frequently used cycling route and drivers are very bike conscious. There are historic buildings and jetty's all along the route. On this path you will never be more than a few kilometres from the nearest cafe or ice creamery.
Cycling in the Southern Wine Region
McLaren Vale is over forty kilometres to the south of the city. A bike path runs approximately thirty five kilometres from Darlington (In Adelaide's southern suburbs) to Willunga in McLaren Vale. This is one of Australia's most famous wine growing regions. There are plenty of wineries located a short distance off the bike path. The path is well marked and takes you through suburbs, along highways and through picturesque countryside. The path has a significant climb leaving Darlington – 3km long with close to 200m of vertical ascent – but trends downhill after this initial shock.
The Tour Down Under
Tour Down Under reaches its climax in Willunga. The weeklong event attracts nearly 40, 000 visitors to South Australia. Many of those will make the pilgrimage to Willunga on this very trail for the race. Space on the path will be at a premium but the camaraderie and festival type buzz that surrounds the event makes it a memorable experience. Plenty of water and food should be carried as there is little opportunity to relax and refuel between the paths beginning and its end. With numerous restaurants McLaren Vale is ideal for an extended rest.
Climbing in the Hills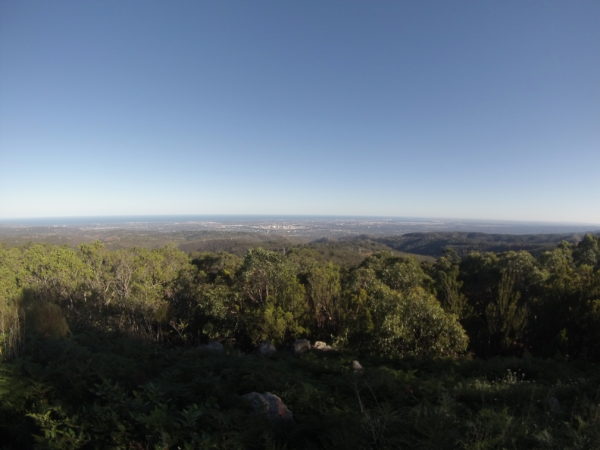 The Adelaide Hills are one big playground for local cyclists. A well maintained bicycle path takes you almost to Adelaide's highest peak, Mount Lofty (727m). The summit has been shaped into a fantastic lookout equipped with a cafe. The easily navigated path begins at the base of the hills. Riders of all abilities are found in large numbers along the path. If ever in doubt it won't take long before a fellow cyclist passes by. There are many more road riding options available in and around the hills. These are largely reserved for enthusiasts who are as keen on suffering as cycling.
Bike Citizens app show you the way though the city and navigates you to your preferred destination. A comprehensive collection of bike path maps can be ordered through the Department of Transport and Infrastructure's website. Hard copies of these maps are also stocked in some local libraries. Like this you're prepared for cycling in Adelaide.
Photos © Ryan Waddington