Building a greater Manchester for cycling
Manchester has made an enormous contribution to UK cycling over the last couple of decades. The city's velodrome was built in 1994, ready for the Commonwealth games of 2002. Known as the National Cycling Centre and home to British Cycling, it ensured the arrival of an unprecedented era of success in cycle sport.
But what of Manchester's cycling and bike culture away from the tracks and sporting arenas?
Transport for Greater Manchester (TfGM) is the executive charged with maintaining and improving infrastructure for all modes of transport across the whole region. If a new book published in the Netherlands called "Cycling Cities, The European Experience" is correct, however, it has a long way to go.
The book looks at how some European cities have high cycle usage, and others do not. A recent review of the book on the BikeBiz website commented:
The only British city featured in the book, except for mentions of London's recent surge in cycling numbers, is the car-besotted Manchester. It currently has a cycling modal share of less than four percent…to "revive cycling…cultural change is also needed."
Bringing about that cultural change in an ever-growing city where various modes of transport currently seek to co-exist is a difficult problem. Busy, undulating roads, inclement weather and long commutes from outlying towns into the city centre are often cited as barriers to cycling in Manchester.
Improvements are already being made. TfGM won two "Cycle City Ambition" grants recently, which were awarded by the Government. Combined with funding from the Local Sustainable Transport Fund, it means that £42million will be spent on improvements to cycling in Greater Manchester between 2011 and 2018.
These improvements have involved dedicating road space on major roads to cyclists and upgrading and maintaining current on-road and traffic-free cycle lanes – in fact, some 60 kilometres of largely segregated cycle lanes have been built since 2013. The largest scheme in the first phase, the Wilmslow Road Cycleway, runs between the suburbs of Didsbury and Rusholme, close to the city's universities. Once the final improvements for bus access have been completed, it will provide a continuous route for cyclists all the way into the city.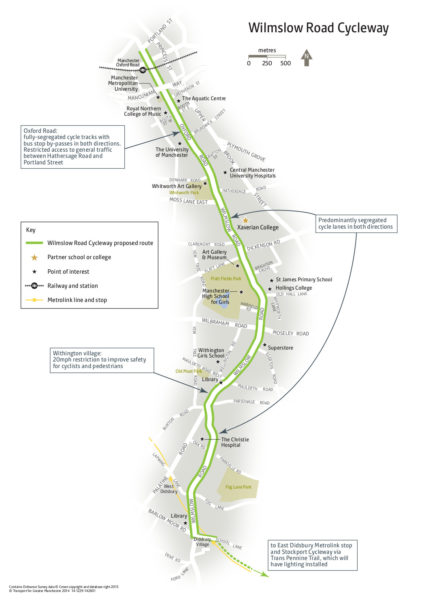 Secure bike parking and locker storage has also been made available in a number of purpose-built cycle hubs which are located at convenient transport interchanges in the city centre and across the region, and around 9000 people have enjoyed free skills training sessions in road craft and bike maintenance.
The second phase of the programme includes another 45 kilometres of new and improved cycle lanes which will provide connections to link communities with employment centres, schools and public transport and a further cycleway – the Stretford Cycleway – is under public consultation.
TfGM's website states that the aim of their Cycle City programme is to "make cycling a convenient, attractive and safe travel choice for everyone, regardless of age or ability," and to "increase the total number of journeys made by bike across the city region from 2% today to 10% by 2025, making it a mainstream, every day and aspirational form of transport."
Creating safer roads and providing purpose-built infrastructure does go some way to getting the general public onto bikes and TfGM have recently started a new campaign, which further aims to spread the message that cycling is not just a sport but also a viable regular method of transport.
The #JustRide campaign features ordinary residents of Greater Manchester getting around on two wheels – whether for commuting, popping to the shops, or just for leisure.
The stars of the campaign – members of the general public who cycle regularly – tell their own stories on the accompanying website and also feature on billboards and posters along with taglines such as "no gym membership required" and "no lycra required" there is a clear emphasis on not only the health benefits but also of the normality of cycling.
With rising fuel, parking and public transport costs – plus greater congestion as the city grows – the humble bicycle has been picked out to play a major role in Manchester's future. As the number of people cycling in Greater Manchester increases, so a cycling culture is created with cafés, repair shops, vintage bicycle stores and more joining the city's streets.
Now, if we could just fix the weather…
Image © Zuzanna Neziri on Flickr (CC BY 2.0)