Cycling is fun! And: Cycling never was that safe in Europe
How safe is cycling? We have all experienced it. You tell someone that you are an urban cyclist and they look at you horrified asking "But isn't that really dangerous?!" "No! Cycling never was that safe!" says a recently published study from UK. Let's have a closer look.
We have all experienced it. You tell someone a nice story about your daily cycling adventures and they look at you a bit horrified asking "But isn't that really dangerous?!" Certainly, many perceive cycling to be a risky activity. So, in this article, we want to look at some of the data about cycling safety in the UK and Europe. All these stats come from a larger, more in depth article than you can check here.
UK has a very low rate of fatalities from cycling compared with EU
The EU average for cycling fatalities per one million inhabitants was 4.0, as reported in their 2018 report on cycling. The UK average for the same time period was significantly lower, coming in at 1.6.
This may come as a surprise for those who think of cycling in the UK as particularly dangerous.
The UK's average is lower than that of France (2.4), Germany (4.8), Sweden (2.2), Denmark (5.4), The Netherlands (5.9) and Belgium (6.3). In fact, it is the lowest average in all of Northern Europe.
However, there are some important considerations with this data. First: This data does not control for popularity of cycling – higher numbers of fatalities in countries like Denmark, Belgium and the Netherlands are possible due to the that cycling is far more popular in these countries.  Second: As this data focusses on fatalities, this could also be a reflection of the quality of the UK's health services.
Since 2007, there has been a marked improvement across the EU.
The data from across the EU shows that the average number of cyclist fatalities has been steadily falling since 2007. This would suggest that cycling across the EU is getting safer, with a combination of better infrastructure and education of both motorists and cyclists all contributing to help cyclists be safer on European roads.
As always though, there is still room for improvement in this department. The data shows that in recent years these improvements to numbers of fatalities have been stalling. This would suggest that more still needs to be done. In particular, the data shows that numbers of fatalities are still much higher than the EU average in many parts of Eastern Europe.
Regional Variability
Again, these results should be taken with a grain of salt, as they do not take into account how popular cycling is as a mode of transport within a country. This could explain some of the regional variability in the data.
Conclusion
A lot of the data that I have presented here suggests that cycling in the EU has never been safer. Certainly, the signs are good that across the EU things are moving in the right direction. However, there are still areas for improvement, especially in urban centres where lots of traffic has to share the same roads.
Still, I think that the take-home message here should be that cycling in the UK and across Europe has never been safer. The combination of improvements to infrastructure, technology, and education mean that there has never been a better time to hop on your bike and go for a ride.
With that in mind, you should make this summer
the summer you fall in love with cycling all over again!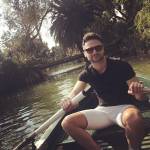 About the author
Paul East founded BikeParts (formerly known as Woolly Hat Store) in the 90s after finding a lack of stores offering low-cost yet reliable parts and accessories at larger national stores. The small business has grown steadily and has a large following of avid cyclists throughout the UK.