My travel story: Barcelona by bike
Barcelona is a great ride. The Catalonian capital has all one can wish for, especially for those born in a Northern country. The average annual temperature is about 18 degree Celsius. In Berlin it is 9, just to put this into perspective. Naturally, in Barcelona the sun shines almost all year long.
Plus, Barcelona is the biggest city on the Mediterranean Sea, so the beach stretches along the full length of the city in the East. Yet, nothing is far. Most sights are just a 2 – 5 km bike ride away, 7 km at the most. While its western boarder is a mountain range, 80% of the city has a gradient of less than two percent. This means you can get around comfortably.
Furthermore, the urban sprawl is easy to navigate with or without the Bike Citizens App. Landmarks like Gloriès stand out and thus provide an idea of latitude, so to speak. The sea then indicates if you are going south or say, the right way. As I spent one month in the city, I was drawn to the water almost daily.
When beach-bound, I had to cycle about 7 km south. Often I chose the big roads, where essential parts of Barcelona's 105 km network of cycle paths run along. In my case it was the Av. Meridiana, which I hit at San Andreu and then followed all the way to Gloriès.
From there, things got a little busy but bicycles have their own traffic system, they even got their own roundabouts. Once the round was made and the right exit was taken, the promenade awaited and it is nothing short from glorious.
Barcelona's beach is artificial. It was build for purpose, leisure in this case, in the wake of the 1992 Olympics. The city demolished old warehouses to make way for another three km of white beach and a marina.
The town made sure to include a wide path with space for cycle lanes that sometimes run under palm trees. It was uplifting if not exhilarating to have the tropical evergreen spending shade while navigating through beach goers on a slightly sandy path and looking out on the sea mirroring the blue sky.
I made sure to always cycle up and down the seafront before choosing a spot to swim and to leave the bike at the parking right at the beach. In fact, Barcelona has 22,350 bicycle parking spaces and another 1,187 spots underground.
But back to the roads. Leading a bike lane along a busy street does not seem to be the most sensible path at first. However, Barcelona underwent modernisation repeatedly. It is why its architecture varies between very old and daringly modern, making for an intriguing background.
Avenidas span the city from East and West and North and South. They serve as axis for both cars and mopeds as well as for people on bicycles and people on foot.
In Barcelona, cyclists and pedestrians often share the right of way but not necessarily insist on it. The city has not installed all cycle paths on the tarmac of the road but on the broad walkway. While you are separated from motorised traffic, one has to be aware of people stepping on the lane. This is especially true at traffic lights and in general it is wise to stop at red lights as vehicles move immediately once the light turns green.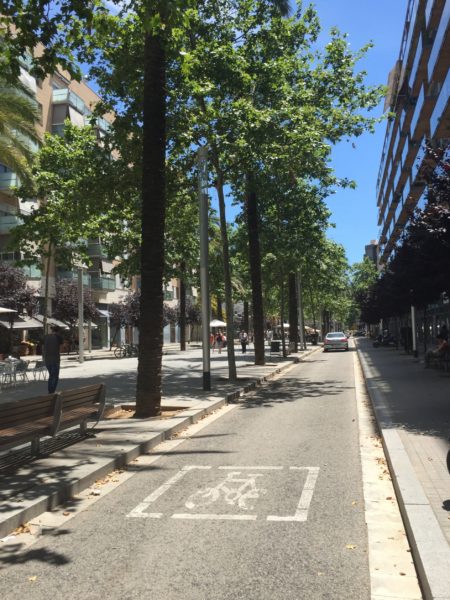 Another thing to watch out for are obstacles on some cycle lanes such as glass containers for example. The paths do curves around it but interrupt an otherwise straight-forward ride. If this was set up on purpose, i.e. to slow cyclists down is unclear.
Talking about velocity. Barcelona sure has its own pace and that pace is relaxed. Coming from a tour on speed pedelecs in California, switching to a vintage road bike was a little challenging.
Additionally, people on foot and on bikes in Barcelona have the swag of warm countries. It can take a bit to get used to it when coming from a city that rushes like London for example.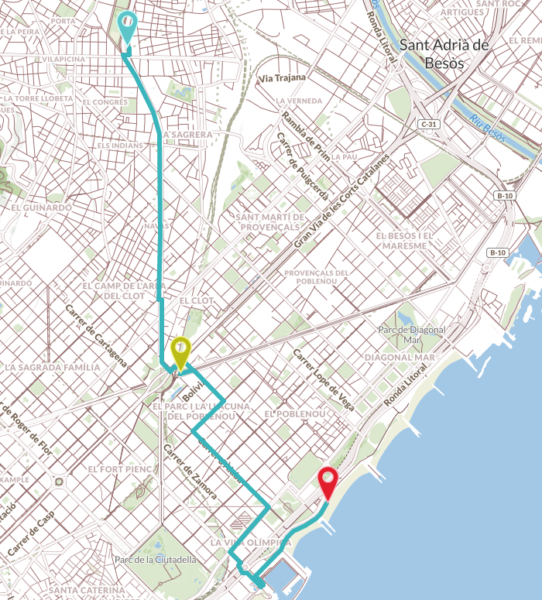 It took me about three days to learn to go with the flow. And "slow" actually makes sense in the Catalonian enclave.
First, it saves you from the danger of running over someone stepping in your way. Or, when feeling that someone is standing "dangerously" close to the bike lane – although that German perspective of safety distance adjusts quickly also.
Secondly, lower speeds literally chill you out because Barcelona is hot, very. It is wise to get some bag for the rack or handlebar rather than carrying one because all it will do is to make you sweat (even more). Finding one is a different matter as urban cycling gear has not hit the streets.
Thirdly, to decelerate makes you look more local because no one from Barcelona would ride as if in a race. Many fellow cyclists opt for the simple compact bikes offered through the rental system Bicing.
The cute Bicing bikes are only available to locals. To get a card for access requires a residency in Spain.
Still, the system is one of the most comprehensive networks I have come across. Implemented in 2007, Bicing led to a clear increase in cycling and in 2013 the modal share stood at 2.4 percent. The 6,000 rental bikes on 421 stations have almost a 100,000 subscribers. That means over six percent of Barcelona's 1.6m inhabitants have signed up for an annual pass that costs about 50 euros plus charges after the first 30 minutes.
In Barcelona, the bicycle was once more the best way to get around town. It did not always feel like the fastest, but who would be in a rush when getting somewhere in a relaxed fashion is the way to go?! When in Rome …
Images © Nora Manthey