30.000 women take part in Fancy Women Bike Ride to raise visibility for female cyclists in Turkey
Critical Mass and Cycle Chic combined in one cycling event? Yes, it is possible. What started with a small bike ride among friends, evolved into a big movement. The Fancy Women Bike Ride gives more visibility to women in Turkish society and is asking for cycle safe cities. In this year's even more than 30.000 women joined the bike ride in over 50 cities all over Turkey.
The Fancy Women Bike Ride came to life in 2013 thanks to Sema Gür, who hoped to challenge the male-dominated world of cycling in Turkey. Sema, a teacher living in Izmir, created a Facebook event and invited her friends to come together for a bike ride one Sunday afternoon. It was by coincidence that it was on the same day as the annual World Car Free Day, during the EU's "Mobility Week". Since then the "Fancy Women Bike Ride" takes place every year at the World Car Free Day in late September.
Sema Gür learned to ride a bike at the age of 39 and she started to participate in bike tours in her city. She realized immediately that the bicycle scene was dominated by men. Men choose the cycling route, men decide how fast the group should pedal and men also say how women have to dress during the bike tour. Sema did not agree.
Therefore, she decided to organize an "easy" ride in the city center of Izmir for her friends and asked them to wear whatever they wished, regardless of what the common dresscode would be. Her friends and other women loved the idea and they came to the event with flower and balloon decorated bikes. The foundation for an annual event organized by women for women was set. In the following year the Fancy Women Bike Ride already expanded. Volunteers from Istanbul, Ankara and a couple of other cities organized women bike rides at the same day and same time. In 2017, Fancy Women Bike Ride has taken place for the 5th time in a row and more than 30.000 women joined the event in 50 cities in all over Turkey.
The women's bike ride is successful because the event welcomes everyone, the message is clear and it is organized by brave and independent women.
The Fancy Women Bike Ride aims to encourage more women to use the bicycle and more men to respect women cyclists. Every year on Car Free Day, women have the possibility to cycle safely on main roads together with the group. The participants experience the city, the use of public transportation and the roads with their bicycles. Once they see that cycling is possible in urban areas, even with fancy clothes, they consider to use the bicycle in their daily lives.
The event is organized by volunteers who are eager to promote cycling to their peers. Hand-in-hand with the organization of the ride they ask local authorities to increase safety on roads, create urban cycling infrastructure and plan bike-friendly services.
Although the event itself is once a year, the women's peer-to-peer initiatives last all year around. Women organize cycling courses in their communities, group rides for the weekends, cycling events for families with small children.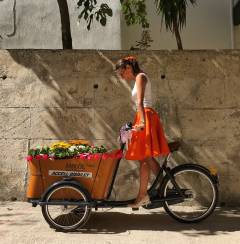 About the author
Pinar Pinzuti (born in 1979) is a digital marketing expert, story teller, idea generator, philologist, pedagogue, yoga instructor, activist and blogger. She lives between Turkey and Italy. Pınar Pinzuti is an active user of social media, well aware that they are among the best tools to reach people and raise awareness. In her blog "bisikletizm" (aka bicyclism in Turkish), she shares her daily commutes by bike, cycling tours in all around the world, writing about what needs to be done for increased and safer cycling in urban areas. You can also read her stories at medium (English) or bikeitalia.it (Italian).