On holiday with a folding bike: How "small bikes" are redefining cycling trips
When you hear the words "cycling trip" you normally think of a lot of luggage on big touring bikes. On hearing "folding bike" you think about small bikes in the city. However, travelling and holidays are extremely comfortable on and with a folding bike. It opens up new horizons for holidaymakers, as it offers opportunities that big bicycles do not, whether it be for a weekend trip or for a long journey. Bike Citizens know which!
Where travelling with "big" bicycles becomes difficult, for example when getting on a bus or train, these "small" bikes unfold their full potential. Folding bikes are masters of flexibility and the crème de la crème when it comes to comfort. What is standard in everyday life also works on holiday.
It is no coincidence that the original ideas of various folding bike brands go back to a cycling trip. The pair of entrepreneurs Riese and Müller came up with the idea of the "Birdy" on their four week Tunisian cycling trip. The maker of the "Bike Friday" folding bikewanted to create a solid touring bike that fits into a standard travel case which also functions as a bike trailer.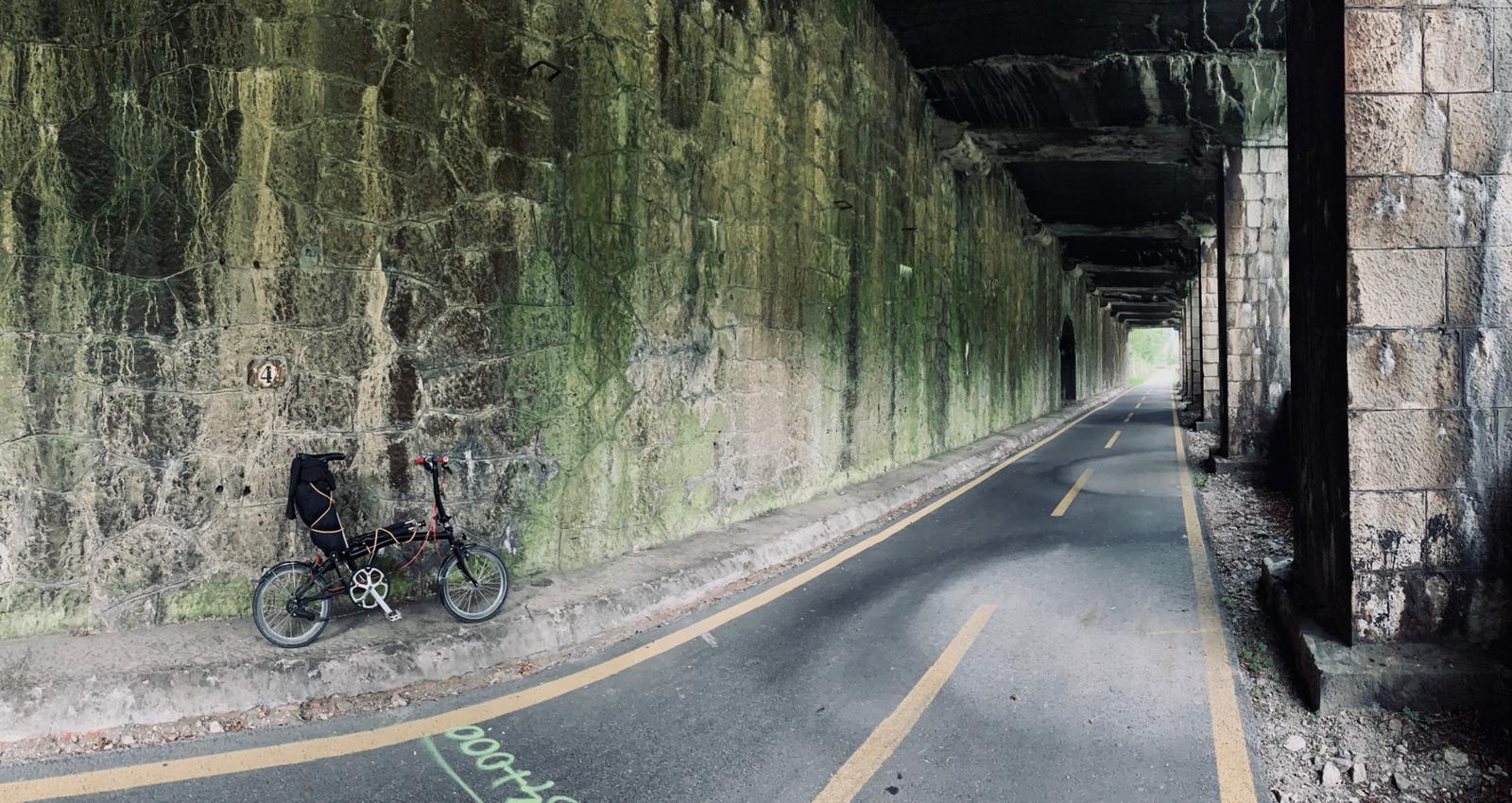 With a folding bike, there is not just one way of travelling.
Redefining cycling trips
With a folding bike, there is not just one way of travelling. Folding bike travel is whenever a foldable bike is brought along and with its flexibility it makes long breaks from everyday life more pleasant. Neither the bike type, nor the number of nights define the trip, nor must the main reason for travelling be "cycling".
Folding bike travel is based on personal (holiday) preferences. The type of holiday is a result of the priority that cycling as an activity is given on the holiday.
Three types of cycling trips can be identified:
Type A – Holidaymakers: The folding bike is responsible for the maximum comfort with freedom of movement and for moving in a wide radius from the holiday location. On holiday, it is very relaxing.
Type B – Travellers: The folding bike is an essential element to get from A to B on a trip.
Type C – Travelling holidaymakers:This type is a mixture of Type A and Type B
Type A – "The Holidaymakers": If you belong to this type, planning the holiday with a folding bike is no more complicated than planning without a bike. Select the destination and the time period. Fold up the bike and pack it. And relax!
Folding bikes enrich the day by providing self-determined, flexible mobility at the holiday destination. You can enjoy the comfort of your own bike, which is always at hand, does not take up unnecessary space, nor does it entail costs or have to be returned at a certain time.
And the easier and more spontaneous your moving around is on vacation, the less often your eyes will be drawn towards your phone or watch … Suddenly you will be completely relaxed in the here and now.
Type B – Travellers:  This type has many similarities with a classic cycling trip and is therefore associated with more organisational effort. The big difference to a classic cycling trip with a "Big Wheel", a touring bike with "big" wheels, is that with a folding bike you always have a simple plan B up your sleeve which can be referred to as "Combined mobility" or "Inter-modality".
Travelling holidaymakers – Type C
are those among the adventurers who take time for enjoyment. They leave nothing out and combine "Type A" and "Type B". Mostly they travel for longer than two weeks and go on both city and nature trips. A good example of travelling holidaymakers are "island hoppers" who go by boat from island to island and then explore them on their folding bikes, and all within the summer holiday fortnight!
Advantages and differences to travelling with "big wheels"
How do the advantages such as comfort, flexibility and freedom come about with a folding bike?  What are the differences to travelling with a big bike?
Arrival/departure and transport: A folding bike can usually be checked in free of charge as luggage on trains, buses or ferries. It does not have to be disassembled on departure and reassembled afterwards. Rail replacement transport, limited take-along on the ICE or the lack of bicycle carriers on (rental) cars or motorhomes are no obstacle. Read more here.
Linked mobility is the Plan B: Five days of rainy weather, epic fatigue, muscle ache or illness: There are many reasons why you might not want to get on your bike. On a cycling trip this then quickly leads to time pressure. On a cycling trip with a folding bike you can relax if such a situation arises. Without logistical effort or exploding costs you can resort to your Plan B: 1. Fold the bike. 2. Luggage on your shoulders. 3. Choose the most comfortable option from the mobility options available and continue …  Even hitchhiking is possible. Folding bikes even fit in a very small car!
Linked mobility is the base: With a folding bike, the so-called "Inter-modality" can also be the basis of time off. For example, there are adventurers who toured through Norway with a folding inflatable boat and folding bikes. On land, the boat was folded up and was put in the luggage, in the water it was the other way around. Unthinkably awkward with a "big" bike, don't you think?
Safe parking: Everyone who has travelled with a big bike knows the worry to find safe, weatherproof parking, not only at night. With a folding bike there is no need to be concerned! This eliminates having to choose accommodation based on bike friendliness. On top of that, you don't have to take a heavy padlock in your luggage.
Thrifty spenders:With a folding bike you do not only save costs when taking public transport. Especially Type A tourists can relax and choose cheaper and quieter accommodation away from the hustle and bustle. With a folding bike in your luggage, you can quickly reach the city centre, the delicious bakery or the beach. Conversely, you can quickly disappear from the hectic city on your folding bike and discover a very different side of the holiday destination…?
Packing and luggage: Folding bike cyclists are either friends of minimalism, or fans of minimalist travel, because the limit for luggage loading is about 30 kg. Cleverly packed and well planned, 30 kg of luggage are enough for a half-year trip around the world. The advantage of "lean" travel is that your luggage and folding bike can be carried by one person because the bike and luggage are always close at hand and are never left unattended. High quality folding bike brands offer sophisticated solutions for luggage transport. Bicycle trailers allow more luggage, but at the same time reduce flexibility.
Trail Magic: Cyclists love it: Trail Magic! Wonderful coincidences in situations where you least expect them and need them most. With a folding bike you often get into conversation with people you don't know just because of the way the bike looks. On the other hand, the folding bike community is well connected, open, uncomplicated and helpful worldwide. The bike is a code without words that opens doors!
The essence of cycling trips: Being enchanted through freedom and timelessness …

Conclusion: The essence of a cycling trip combined with flexibility
Folding bikes are comfortable companions that enable a new kind of uncomplicated travelling. They are part of the travel experience and delight both experienced cyclists and newcomers.
Experienced cyclists appreciate the flexibility and are able to reach places with folding bikes that have not been possible with large touring bikes so far. On the other hand, newcomers are surprised by the flexibility and simply enjoy the essence of cycling trips: Being enchanted through freedom and timelessness ….
The disadvantages: The folding bike is no allrounder
Of course, not every holiday or tour can be undertaken with a folding bike. On longer trips on unpaved roads comfort disappears. Also extreme and long climbs can wear you out, especially when the bike is loaded. 
Basic repairs should be able to be done on a cycling trip with a folding bike and in the best case you should have a spare set of accessories and tools. Likewise, the bike is less suitable for long distance trips into very remote regions. Folding bikes are too special for that and the luggage load capacity is too low. Folding bikes are and will remain fundamentally urban bikes with which you can ride past traffic jams.