From the By-Product to the Cash Cow: The Finn Smartphone Mount
At the outset there was the idea of two cycle messengers in Graz to improve cycling in the city for everyone with an easy-to-use bike app. After the first version of the app (Bike Citizens app) was installed and testing was to start, they faced a challenge: How the hell do you fix a smartphone to your bike handlebars? - Quick and easy, without screws, without it juddering and joggling, just keeping the smartphone save. All the solutions offered on the market were either laborious to install, expensive or simply not thought through. So they proceeded to action.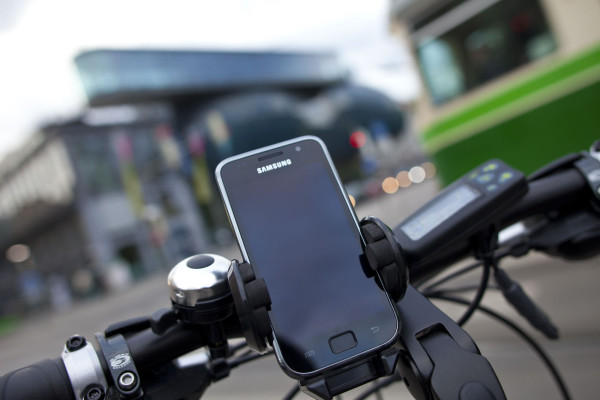 This was the kind of smartphone mounts that were to be found on the market before Finn.
The Journey to Become an International Best Seller
After a 25,000 Euro investment in the development of four prototypes, the impressively simple solution to a complex problem was found: Finn is its name and it is a simple elastic silicone rubber band. It fits on every handlebar and fixes every smartphone safely and securely. The name Finn was chosen out of need for a name of the man on the former logo of BikeCityGuide (now Bike Citizens). Later it was used for the smartphone mount as well.
By end of 2016 more than 400,000 people in 91 countries were relying on Finn, the smartphone mount developed and produced in Austria. Alongside classic cycling countries like Denmark and the Netherlands, Finn is increasingly being supplied to 'exotic' destinations such as Zimbabwe, Nepal, Mauritius and Mexico .
Although this market segment is predominantly very cost-efficiently produced in the Far East, the Bike Citizens team could turn the tables and gain a foothold with the European product in the Asian market itself. The list of countries already on the Bike Citizens sales map ranges from South Korea to Malaysia.


Before: Silicone band from Asia.                                                                                 Now: Finn smartphone mount.
Environmentally Sustainable Value Added Chain, Made in Europe
Finn leaves behind it only a very small ecological footprint: Transportation routes are kept short and all components are sourced as sustainably and conservatively in terms of resources as possible. Production of the smartphone mount and print of the environmentally friendly packaging takes place in Austria; the silicon rubber base material is made in Munich.
Silicone rubber is mostly non-hazardous, as no plasticiser or solvent is used in manufacturing, making it an elastic, very strong silicone-based synthetic material. It can be coloured by adding suitable pigments and can also be used in the manufacturing of cake pans or baby dummies amongst other things. Although silicone is relatively recyclable and reusable, Bike Citizens is currently testing the possibility of making Finn out of natural rubber.
Facts About the Finn Smartphone Mount
Made in: Austria, Europe
Available since: April 2013
Sold (until May 2015): 400,000 units in 91 countries
Extra: Voucher for a city in the Bike Citizens app
Shipping: worldwide
Costs: 15€
Globally available via: http://getfinn.com
Image © Bike Citizens