How big is your Wegschatz?
As an equivalent to the metaphor "Wortschatz" (vocabulary), "Wegschatz" defines the range of ways an individual knows at a specific time. "Wegschatz" takes into consideration that every human ability underlies the nature of training and therefore can be highly influenced (learning and forgetting).
Weg|schatz, der [vɛkˌʃaʦ]
The quality and value of the knowledge of our surrounding area is aggregated by
a.) intensity
b.) amount and
c.) diversity of our movement.
The most intense way to increase your Wegschatz is by walking. Whenever we walk, we see our surrounding from another angle and discover details we might not have seen when traveling by motorized transport, public transportation or by bike. Another great way to increase your Wegschatz is by strolling around.
When it comes to public transport or motorized transport, some may think that these modes of transportation are the leaders in amount and diversity because of their advantages for long distance travel. But studies show that people going by public or motorized transport tend to choose the fastest way for their daily routes. Detours are only considered due to construction works, traffic jams or other purposes (e.g. shopping) which makes the diversity of covered ways rather low.
Moreover, the perspective form the cockpit in motorized transportation results in a reduced perception (hear, see, feel, smell) and sums up in a lack of intensity.
What about the intensity of experiencing our ways on public transportation? Observing peoples' behavior while traveling by public transport underscores two facts. On one hand, people mostly invest their travel time in reading both, paper (newspaper, books, magazines) and digital based content (such as on smartphones, tablets, ebooks) consuming their awareness for their surrounding. On other hand, users of public transportation are handicapped by advertisement and the fact that this means of transport is partly guided underground.
Last but not least: cycling. While cycling is not leading in a single one of the three categories, its synergetic effect pushes it to the top of this ranking. Cycling unites these three factors which as a result is the best way to increase our urban Wegschatz.
Personal Wegschatz Displayed as Heatmap
Based on this approach it is now possible for the first time to visualize the Wegschatz in form of a heatmap. Bike Citizens Wegschatz is aggregated by dividing the amount of existing walk- and bikeable ways within a city by the amount of cycled and walked ways of a person or a city which are recorded with Bike Citizens App.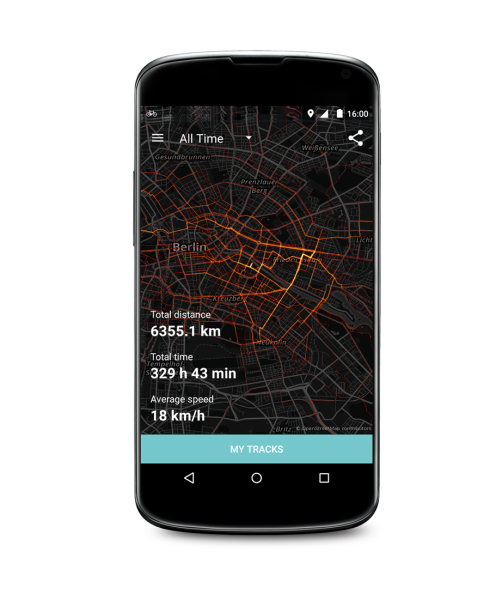 As a first step into this direction  users of the Bike Citizens App can see their ways visualized in a heatmap. By clicking on the personal dashboard "activity", the personal Wegschatz is shown.
UPDATE: June 2018 – The Wegschatz now is part of the monthly challenge of July during the "Mondfahrt auf Erden" (bike to moon) in Bremen.