The past, present and future of Helsinki's bike sharing system
Last Autumn, the Finnish capital of Helsinki made many international headlines when it reported glorious results from their new bike sharing system Kaupunkipyörät ("city bikes"). For 2017, Helsinki has almost tripled the system's capacity for the upcoming season, starting in May. Let's have a look at the past, present and future of bike sharing in Helsinki.
Helsinki's first and infamous attempt at bike sharing (2000-2010)
Even though Kaupunkipyörät was greeted as a novel way to move around in the city, it was not Helsinki's first attempt to introduce a bike sharing system. During the summers of 2000-2010, Helsinki offered citizens clunky and heavy, single speed bikes in green, which you could rent with a 2 euro coin.
The riding quality of the bike was poor because of the weight and solid rubber tires. No registration was required and since the bikes had no GPS-system to locate their whereabouts, a lot of the bikes were stolen and vandalised. During the launch, there were 400 bikes in circulation, but in 2009 only 150 remained in working order.
Helsinki's well-designed second attempt
After the first infamous attempt, Helsinki's transport officials decided to do their homework properly before trying again. This time, Helsinki made a list of minimum requirements for the bicycles and the system itself before launching an open tendering process in November 2014 for international bike share operators.
In October 2015 a consortium of companies, led by Smoove SAS and Moventia , was chosen to build and maintain Helsinki's bike sharing system. HKL (Helsinki City Transport agency) and HSL (Helsinki Region Transport agency) signed a procurement agreement for 10 years with a budget of €12.950.000. Clear Channel Finland manages the system's advertisement spots and Finnish bicycle manufacturer Helkama Velox is in charge of fixing the bikes. The bright yellow colour scheme came from the main sponsor, a Finnish grocery store chain Alepa.
The brand new bike sharing system was launched in early May 2016 with 500 bikes and 50 parking stations. The public greeted the new system with much appreciation; people quickly figured out how picking up and returning the bikes worked. Besides that, the bikes specifications (3-speed hub gear, handbrakes and dynamo lighting) were suitable for Helsinki´s moderately hilly bike infrastructure. There were two patrols which move the bikes from congested stations to less congested stations and do maintenance on the bikes if needed. Many official and unofficial apps and sites are available to help you find the nearest station with bikes.
The bikes main features:
Shimano Nexus 3-speed hub gears
Drum brakes
Dynamo hub for lights at the front and back
Basket in the front for your medium-sized bag
Saddle height is easy to adjust, no tools needed
Locking wire hidden inside handlebars
You can check on-line how many kilometres you've ridden.
Riders need to register online to use the system with the local travel card. You may register for one day (€5), a week (€10) or the whole season (€25). If you are a visiting tourist with no intention of purchasing a travel card, not to worry. There are 5 stations near popular sites where you can easily register for a day or a week with your debit or credit card.
Once you have registered and paid for the use, you can borrow the bike for 30 minutes at a time. After 30 minutes you will be charged more in 30-minute intervals. The maximum time for single use is 5 hrs. A delay fee will be charged if the bike is not returned to a station in 5 hours time.
The 2016 season was a success story for Helsinki
End of the 2016 season proved the new system to be a real hit. It even succeeded to exceed the expectations of the city officials. During the whole season (beginning of May – end of October) locals and tourists took the bikes for over 400.000 rides, pedalling for over 700.000 kilometres in total. The average of daily rides per bike in Helsinki has been higher than anywhere else in Europe and America.
According to a user survey (by HKL), most people used the bike for leisure rides but over 50% of the people also used them for commuting. Around 60% of all users regularly combined the bike rides with public transport, and most users rode the bikes 1-5 times per week. On a scale of 1-5 with 5 being the best, most people graded the quality of the bike sharing system an average of 4.
Over 10.000 riders registered and bought a travel card for the whole season, another 10.000 bought day passes and 2.000 bought week passes. Registration fees amounted to over €400.000. And lastly, not one bike was stolen or destroyed.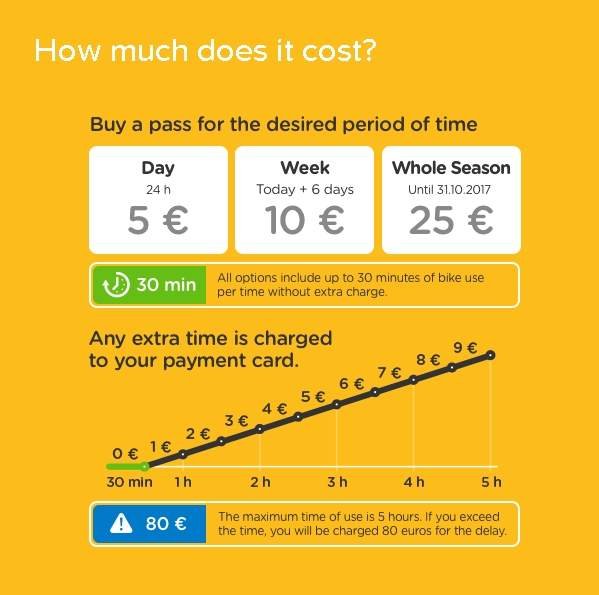 Present day
Helsinki is now about to start the next season with almost triple the capacity from last year. This means 1.400 bikes and 140 stations. First, the capacity would be 1.500 bikes and 150 stations, but Helsinki decided to let the neighbouring city of Espoo pilot the system with 100 bikes and 10 stations.
The use of the Helsinki city bike system has also been integrated into the local (and very popular) commuting planner site and mobile service, Reittiopas . The service shows you how to use city bikes alongside public transport to get from A to B. This is one of the first uses for the new revolutionary MaaS (Mobility As A Service -framework). This framework will combine public transport, car sharing, taxis, and bike sharing systems to use as one service. The future goal of MaaS is to make private car ownership obsolete by catering to all your mobility needs for a set monthly fee.
Bike sharing boom to hit other Finnish cities
Encouraged by the success in Helsinki, the neighbouring city of Espoo will pilot bike sharing. With 100 bikes and 10 stations, the city will implement bike sharing for one summer. Registered users may use bikes in both cities. There have already been talks about a shared system between all three neighbouring cities of Helsinki, Espoo and Vantaa.
The national Finnish Transport Agency financed a survey in 2016 to look into what kind of bike sharing system would best suit other larger cities (such as Jyväskylä, Lahti, Oulu and Tampere). Hopefully, one day you will be able to borrow a city bike in various cities with a single account.
Register and go for a ride!
Helsinki's success with the new city bike system shows us the importance of trying again after initial failure. They figured out what went wrong the first time and made sure to avoid the old mistakes. Helsinki has set a high benchmark for bike sharing systems in Finland. Hopefully, this will hopefully ensure good quality bike sharing systems in other Finnish cities as well. Are you are visiting Helsinki this summer? I suggest you register as a rider and see the sights while riding on a comfy saddle.
Featured image: Olimar (CC-BY-SA-4.0) via Wikimedia Commons