Displaying local bicycle campaigns in the Bike Citizens app
Information on bike events can now be added to the Bike Citizens app. Organisers can easily reach more people and Bike Citizens users can see at a glance what is happening in their city.
"I've been riding bikes my whole life: to school, on holiday, to work, for fun, for sport. To be honest, I'm up for any bike event. I first found out about the "Who cycles, wins" campaign in my area when it was already in its third year. As a passionate cyclist, I would have liked to have known about it before," says Renate.
The Bike Citizens app shows users what's going on in their city
The Bike Citizens app adds a string to its bow by offering users the chance to check out at a glance all the bike campaigns which might be of interest to them. Organisers of various bicycle campaigns thus have the opportunity to reach new groups of interested people through the new menu item "Campaigns" in the Bike Citizens app – making stories like Renate's a thing of the past. This not only gives Renate faster access to the information, however. This way, people who have only ever ridden bicycles a little bit are also motivated to go out on their bike more often.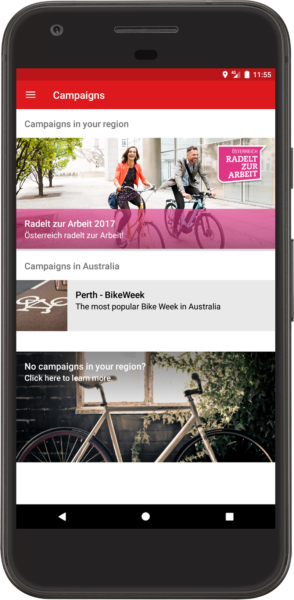 This objective is shared, for instance, by the "Austrian bike to work" initiative as well. Up until now a stand-alone tracking app was required in order to participate and you had to register the distances you had ridden online. Starting this year you can take part by simply clicking on the Bike Citizens app. This allows Bike Citizens users to save themselves time, as the Bike Citizens app makes it super easy to record journeys. This creates a huge benefit for the organisers of "Ride to work": until now lots of campaigns have been based on trust when it comes to keeping track of goals, such as noting down the distances you ride.
How to add a bike campaign to the Bike Citizens app
Which campaigns are suitable to be included in the app?
Basically, all conceivable bicycle campaigns, promotions and events can be added to the app:
bike2work campaigns, bike sharing systems, bike day events, bike weeks (e.g. the bike week in Australia which is happening right now), bike tours, offer months for bikes, bike motivation campaigns in schools etc.)
I can't see any regional campaigns, but I'd like to take part in a campaign I know of by adding it to the Bike Citizens app. Is that possible?
Do you know the people in charge of the bike campaign in your city? I do! You could tell them about your idea and about the "Austria Ride to Work" initiative for example. The organisers of the campaign can get in contact with us at any time by emailinginfo@bikecitizens.net – we'd love to add your campaign to the app!
How do I add my bike campaign to the Bike Citizens app?
Are you the organiser of a campaign? Would you like to make all the Bike Citizens users in your area aware of the Bike Citizens app so they can benefit from it too? Then write to us at info@bikecitizens.net and we'll come up with a way to get even more people cycling!