The renaissance of the cargo bike #1: Why are these bikes booming? A calibration of the trend
In this three-part series, Bike Citizens provides an overview of the trend topic of cargo bikes: fact checks and information on models, buyers' premiums and financing, as well as rental bikes, infrastructure and bike parking. An interview with an expert for those of us who (want to) use our bikes as a means of transport!
Colin Pöstgens, cargobike expert, answers Bike Citizens' questions about this hot topic. At the end of each interview, you will find the most important links and further articles to help you with your own research. The three parts at a glance:
#1: Why are bikes booming? A calibration of the trend.
#2: An introduction to cargo bikes: what's the right type for you?
#3: Financing and modern cities: what does "Use it, don't own it" have to do with the transport revolution?
The renaissance of the cargo bike #1: Why are bikes booming? A calibration of the trend.
Bike Citizens (BC): Cargo bikes are on the rise! In Denmark, one in three families living in urban areas has a bike that they use for transport. The brand new book Car Go Bike Boom outlines the unstoppable mobility revolution being driven by cargo bikes. And in Germany, 15% of cyclists use their bike as a means of transport. Around 1% of this number have a cargo bike, according to the VCD's Fairkehr magazine. Colin, what do you say to that?
Colin Pöstgens (CP): Cargo bikes are definitely a trend. Actually, it's more than that. Cargo bikes have reached the mainstream of society. They are an urban status symbol for environmentally aware citizens, and are now an indispensable part of everyday life. Here's an example: the Hamburg Department of Economic and Transport Affairs has announced that in 2019 the city's fleet of rental bikes (StadtRAD) will be supplemented by 20 e-cargo bikes. This number is later expected to grow to 70, says the authority. StadtRAD is a collaboration with DB Rent, meaning that Deutsche Bahn (Germany's state railway service) is involved – a shining example for cities, countries and mobility service providers alike!
BC: Families are forgoing a second car, instead opting for a cargo bike. Postmen, delivery drivers and courier companies are swapping fleets of trucks for transport bikes. The "mobile" cityscape is changing. What is the industry's response?
CP: The ZIV (Bike Citizens' note: the "Zweirad-Industrie-Verband"is an industry association for bicycles, and is Germany's most important national advocate and service provider in the bicycle industry) confirms the prognosis when it says, "that the topic of cargo and transport bicycles (…) continues to gain importance". There are no official numbers because, unfortunately, cargo bikes are not analysed separately in the ZIV's statistics. Likewise, EUROBIKE (Bike Citizens' note: world's leading bicycle fair, held in Friedrichshafen) also set up its own "cargo area" in 2018. I see this as a confirmation.
BC: What has truly made cargo bikes socially acceptable – in addition to well-known reasons such as environmental awareness, the diesel scandal and cargo bikes' presence in the media?
CP: A great incentive with a great effect: buyers' premiums! My colleague Arne Behrensen from cargobike.jetzt has listed all available buyers' premiums here (Germany only)– and he keeps the list constantly updated! Likewise, in many places growth is being driven by (free) rental offers. Almost everyone has now heard the term "free cargo bikes", and there is an online list of current initiatives for free cargo bikes. So it's easy to find free cargo bike rentals near you. And, of course, bike leasing is becoming more and more established. You can now get company bikes (Bike Citizens reports here), and they are replacing company cars.
BC: By 2030, a quarter of all commercial transport journeys could switch to bikes, according to the DLR (note: "Deutsches Zentrum für Luft- und Raumfahrt", or German Aerospace Centre). What makes cargo bikes attractive to companies and businesses – in addition to their speed, the availability of parking, and lower costs compared to cars?
CP: Monetary incentives! In March 2018, the Small Series Directive from the Federal Ministry for the Environment was adopted. It states that there is a 30 % subsidy up to a maximum of €2500 for commercial heavy-duty bicycles. (Bike Citizens' note: a heavy-duty bicycle is a cargo bike that carries more than 150 kg/more than 1 sqm volume). The subsidy was announced at the Diesel Summit 2017. And of course, numerous federally funded projects such as "Ich entlaste Städte", "Velogut" and "KoMoDo" have cross-regional appeal. Last but not least, recent political statements have aroused the interest of companies and major players in the CEP industry (Bike Citizens' note: courier, express & parcel industry) to engage with cargo bikes. So we're right in the middle of it – the mobility revolution!
BC: Thank you for this introduction and overview. Let's go to Part #2 and take a closer look at the cargo bikes themselves.
Important Links
About Colin Pöstgens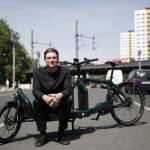 Colin Pöstgens, passionate urban cyclist from Münster and Bachelor of Science of the course of study spatial planning has been organizing with his colleagues
Wasilis von Rauch (Bundesvorstand VCD) and Arne Behrensen (cargobike.jetzt) the  Cargobike Roadshow since 2015. The show brings twelve different types of cargo bikes to eleven different cities, in which the cargo bike density is not very high jet. More over he works in citizens initiatives and associations pro bicycle traffic. Photo © Katja Täubert