The renaissance of the cargo bike #2: An introduction to cargo bikes. What's the right type for you?
In this three-part series, Bike Citizens provides an overview of the trend topic of cargo bikes: fact checks and information on models, buyers' premiums and financing, as well as rental bikes, infrastructure and bike parking. An interview with an expert for those of us who (want to) use our bikes as a means of transport! (Part 2/3)
Colin Pöstgens, cargo bike expert, answers Bike Citizens' questions about this hot topic. At the end of each interview, you will find the most important links and further articles. The three parts at a glance:
#1: Why are bikes booming? A classification of the trend.
#2: An introduction to cargo bikes: what's the right type for you?
#3: Financing and modern cities: what does "Use it, don't own it" have to do with the transport revolution?
The renaissance of the cargo bike #2
An introduction to cargo bikes. What's the right type for you?

BC: In this second of three parts, we look at "private use". Our focus is on the different types of cargo bike and their uses. And first and foremost, we need to clarify the concept. Colin, you always say cargo bike, but there are also terms such as transport bike, family bike, utility bike … What's it actually called, then?
CP: Following the example of my colleague Arne Behrensen of Cargobike.jetzt, I would like to establish "cargo bike" as the collective term.
BC: For newcomers, one collective term doesn't make things much clearer, unfortunately: single lane vs. multi-lane, short vs. compact vs. long, box wheel vs. long tail, with or without electric drive. How do I choose? Does my bike need everything?
CP: First things first: each cargo bike has its own justification and purpose. In the same time, cargo bikes are very versatile. Thanks to a variety of structures such as lockable boxes, child seats and cabins, and rain covers, you can tailor your bike depending on your own individual needs. Electrification is another option that extends the spectrum.
Each cargo bike has its own justification and purpose. In the same time, cargo bikes are very versatile!
COLIN PÖSTGENS
BC: Where can I find an overview of the types of cargo bike available?
CP: The nutzrad.de catalogue gives a great overview of the types of cargo bike.
BC: For orientation purposes, could you give us a quick description of each type and its uses?
CP: What I noticed at the Cargobike Roadshow was that fast, experienced cyclists tend to go for single-lane, sporty cargo bikes without electrification, in the "Long John" style. The Bullitt by Larry vs. Harry from Denmark is the perfect bike for couriers. Families in which both parents use the bike equally are more likely to choose a cargo bike with suspension and a low entry point. These still feel like a normal bike, are intuitive to steer, and are comfortable to ride with loads or children at the front. Models you might be familiar with include the "Load" by Riese + Müller and the "Family" by Urban Arrow.
CP: Families also like multi-lane cargo bikes – the classic box bike with a large box between the two front wheels. These bikes are also the perfect neighbourhood bikes – popular for use close to home, and as leased cargo bikes. World-famous and in continuous use since the 1960s, the advantages of the solid Christiania or Bakfiets.NL include that they don't tip over when stationary, the upright sitting position, and the spacious loading area. Cornering can be a challenge for the inexperienced, however. These days there are new, more agile versions of the classics available, for example the Sblocs from Berlin and the Butchers&Bicycles from Copenhagen – these bikes include special tilting technology.
CP: Pragmatic everyday bikers and commuters are fans of the long tail with its extended luggage rack, which is still quite exotic here but popular in the US. On the streets you might see models by Yuba, bike43 or the latest design from Tern GSD. With a total length of 1.90 m, the long tail is not much larger than a "normal" bike, and is a true all-rounder.
CP: And then there's a relatively new breed, the compact cargo bike such as the Muli or the Sblocs. These are shorter and narrower than standard cargo bikes – they will fit in elevators and through narrow driveways, for example.
Cargo bikes are unisex. (…) The cargo bike can quickly be adapted to different body shapes and sizes! COLIN PÖSTGENS
BC: Are there any cargo bikes that are mainly used in the commercial sector?
CP: In business and trade, transport needs are even more complex than in private transport. Here, you have to differentiate according to parcel size – are the goods a consistent, standardised size, or do I occasionally or always have to deal with special dimensions, washing machines, or other goods with odd shapes? For this reason, the "Ich entlaste Städte" ("I relieve cities") project is currently testing around 23 different models!
BC: Are there typical cargo bikes for men and women?
CP: Cargo bikes are unisex. The handlebar and seat height can be adjusted – using a handgrip and without tools, of course – and the frame is compact, meaning that the cargo bike can be adapted to different body shapes. Whether the bike is right for me depends on how confident I am in general on the bike and in traffic, my preferred riding style, my purpose, and where I'm going.
BC: Most models of cargo bike are available with or without an electric drive, or can have them retrofitted. Unfortunately, most people still think that e-bikes are much faster … What are the advantages of an e-drive?
CP: The motor doesn't necessarily mean that you will go faster – after all, the pedal assist ends at 25km/hr. But the e-drive is an enormous relief when starting from a standstill at traffic lights, and on slopes it gives you a real boost. You save energy, and that means you can travel further. Adding an e-drive to your cargo bike is really about giving yourself a convenient alternative to motorised private transport e.g. a car. We have to move away from the attitude that cycling is a "sport". In reality, it's more about getting quickly and easily from A to B than it is about achieving sporting excellence!
BC: How do I find the model that is the perfect fit for my riding preferences and my lifestyle?
CP: When making your decision, the most important criteria are what you are going to use the cargo bike for, and how much space you need. Just ask yourself the following questions: are you going to use the bike to transport your kids around the neighbourhood and for shopping? Then your radius is quite small and relaxed. Or are you planning longer trips at higher speeds, holidays or longer trips with your cargo bike? Is the bike instead of, or in addition to a car? Where can you keep your bike safe and dry?
The most important criteria are what you are going to use the cargo bike for, and how much space you need.
COLIN PÖSTGENS
BC: And once I have clear answers to these questions, I can browse the manufacturers, add a bike to my shopping cart, click "order" and get pedalling …
CP: Please don't. Test-riding different models is a MUST before buying. Many shops will let you try out a cargo bike over the weekend. And the cargo bike trade is also very professional when it comes to repairs and maintenance.
BC: What should I do if there are no cargo bike retailers near where I live?
CP: It's helpful to have a look at the VCD's dealer locator- maybe there's a shop in the next town? Or you can check out what events, "testivals" (test-ride festivals) and bike fairs are happening in your region. For example, the Cargobike Roadshow visits seven different cities with twelve different brands. A good way to gain experience is through "free cargo bikes". Last but not least, just talk to the next person you see with a cargo bike. The community is very open, and helps each other out. It's almost like a family. As a result, the cargo bike trend is also developing quite organically.
BC: Thanks very much – we're looking forward to part #3 and the question of financing…
About the expert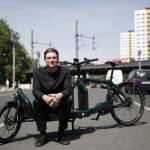 Colin Pöstgens was born in Münster. He is a passionate cyclist, and has a Bachelor of Science in Spatial Planning. Together with his colleagues Wasilis von Rauch (VCD Federal Board) and Arne Behrensen (cargobike.jetzt), he has been organising the Cargobike Roadshow since 2015. The roadshow visits seven cities and regions where cargo bikes are still quite hard to find, and lets visitors test-ride around twelve different models of cargo bike. In addition, he has been involved in citizens' initiatives and charitable associations in the cycling industry for many years, as well as professionally. Photo © Katja Täubert