The renaissance of the cargo bike #3: Sharing, Financing and modern cities
In this three-part series, Bike Citizens provides an overview of the trending topic of cargo bikes: fact checks and information on models, buyers' premiums and financing, as well as rental bikes, infrastructure and parking. An interview with an expert for all those who (would like to) use their bikes as a means of transport! (Part 3/3)
Cargo bike expert, Colin Pöstgens, answers Bike Citizens' questions on this trending topic. Each interview contains a list of the most important links and related articles at the end. The three parts in the series at a glance:
#1: Why are bikes booming? A calibration of the trend.
#2: An introduction to cargo bikes: What's the right type for you?
#3: Financing and modern cities: What does "use it, don't own it" have to do with the transport revolution?
The renaissance of the cargo bike #3: Financing and modern cities
What does "use it, don't own it" have to do with the transport revolution?
Bike Citizens: Once I've found the cargo bike of my dreams, then comes the next hurdle, the financing. Prices start at €2,000 without and €3,000 with an e-drive. Why are cargo bikes so expensive?
Colin Pöstgens: Cargo bikes are still niche products which are only being produced in small numbers. This explains the long waiting times frequently encountered in the trade. The bikes have to show that they can really perform and have a rigid frame and high-quality brakes. Quality has its price.
BC: Isn't there a cheaper way?
CP: Sure, (he laughs) for DIY fans, there's XYZ Cargo Bike from Hamburg.This friendly, open source outfit with their "Made in Germany" concept offers a cargo bike kit. You simply order the parts and build it yourself. Creativity knows no bounds when it comes to conversions and mountables either, creating the ideal basis for a great bike. And in no way are these bikes fragile space savers, either. They are real machines, solid but great value. Prices start at €1500.
BC: What financing options are available to those of us with a smaller budget?
CP: On the one hand, you have leasing, i.e. a company bike for employees and the self-employed instead of a company car (as Bike Citizens previously reported). Then, of course, as already discussed in detail in our discussion in Topics Section 1, there is funding for private and commercial use.
BC: I would like to give a specific mention to the new funding programme from the state of Berlin in relation to that here…
CP: Yes! And then there's what is known as 0% financing, i.e. zero interest instalment payment plans, which make private financing an attractive prospect. Prospective buyers would need to talk to the dealer to find out more.
Riding an e-cargo bike for 10,000
kilometres costs around € 800.
Driving a small car for 10,000
kilometrescosts € 3,500
(Source: VCD)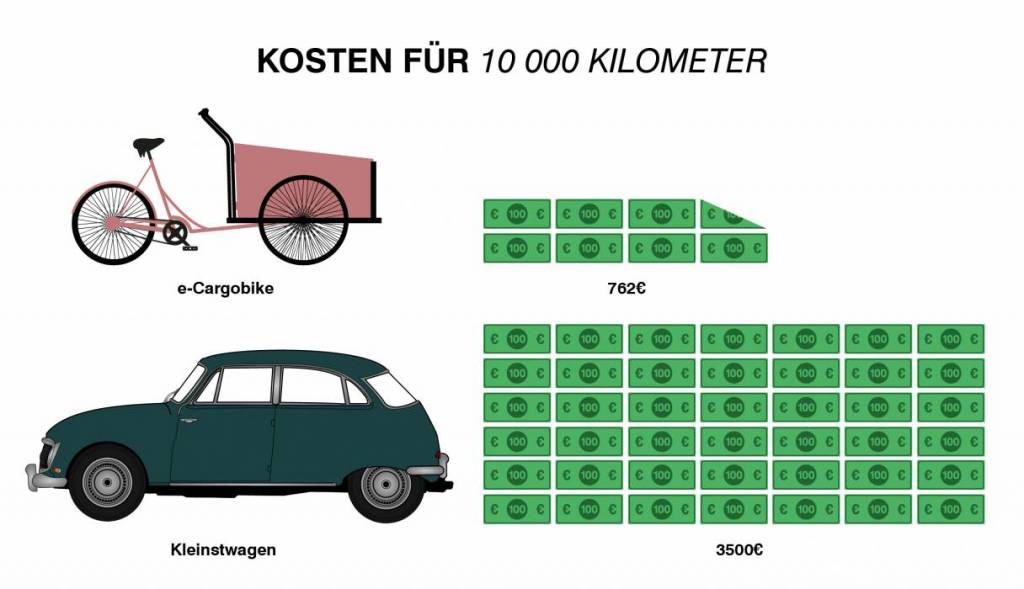 BC: An illustrative calculation by the VCD also shows that riding an e-cargo bike over a distance of 10,000 kilometres costs around €800. Driving a small car over a distance of 10,000 kilometres costs €3,500. I find this comparison really interesting, because lots of people who consider purchasing a cargo bike only see the purchase price, but not what they actually save.
CP: That's right. And a cargo bike can actually replace a car. What's more, a cargo bike is a utility object. The whole point of it is to "use it, not own it". Not every household needs a cargo bike. It would be left standing around unused a lot of the time and take up precious and an ever-diminishing amount of existing public space. Community-based use is the answer!
BC: A cargo bike is a vehicle, not an object to be left standing around! Speaking of "standing around": Let's talk a bit about infrastructure and the problem of "parking spaces". Most people first notice how impractical it is to park a cargo bike in their backyard or cellar when they use one for the first time. Or how unsafe it is to park your bike on the road in front of your house. The  LARAShare cargo bike project from Austria has put a spoke in the wheels of these problems though. As a remedy, they not only offer bike sharing on their platform, but also "safe and secure" cargo bike parking on a rental basis. 
CP: The question of adequate parking space is not to be underestimated when making a buying decision. The infrastructure in place at the moment often makes it impossible to park multi-track cargo bikes safely and secure against vandalism because of their width. The same applies to single-track cargo bikes, because of their length. But that's exactly what makes the cargo bike scene so cool, the manufacturers are pretty smart. Muli Cycles or Sblocs, who we have already mentioned, are responding proactively to infrastructural deficits and have developed a new compact class of cargo bikes. This means that their cargo bike is hardly any longer than a conventional bike and fits in a lift when commuting by bike and public transport.
BC: What does an optimal cargo bike infrastructure look like?
CP: Lots of great infrastructure is already available, but, the problem is, it's reserved for "personal motorised vehicles". For instance, four cargo bikes can fit into one parking space for a car. Cities have to face these facts and redesign parking spaces. Cargobike.jetzt is one platform that presents good and different storage options for cargo bikes on their blog. Civil engineer Luise Braun from TU Berlin also addresses the subject of optimum infrastructure for cargo bikes in his master's thesis. She enquires about the "impact the increasing importance of cargo bikes has on the planning of bicycle traffic systems in urban areas". This is a highly interesting topic.
BC: Does that mean that bike paths have to be wide enough for two multi-track cargo bikes to easily overtake one another?
CP: That's right. That is just one of many points. The VCD gets to the heart of this in their project, "Mehr Platz fürs Rad" (More space for bikes) – high curbs and ramps present a real obstacle for cargo bikes.
BC: So what's the situation with residential properties?
CP: Two points that I personally find very important here are, stopping the need to prove available parking space for cars in new buildings, whilst introducing the same system for bikes in the respective regional building regulations.
BC: Super – finally an end to the garage ordinance! So, the knowledge is available and in digestible form.  Recent books like "CarGo! Bike Boom!!!" or "Besser leben ohne Auto" (Live better without a car) published in 2018 are bringing the revolution within our grasp. Suddenly, lots of things appear changeable. What is required now are actions. In your opinion, who is ultimately responsible for all this?
CP: I'm putting my bet on a "change from the bottom upwards". Lots of cities are now following the example of Volksentscheid Fahrrad (engl. Referendum Bike ) and the first ever German mobility law to be tabled that was passed in Berlin this summer. At the same time, states and councils now have the chance to control the parking space situation at the planning stage in their building regulations and associated parking space regulations. In this context, I would like to quote Arne Messe from DHL at the Transfer Conference 2014: "What you are is what you get. So Venice is getting boats from DHL, Amsterdam is getting bikes and other cities are getting vans. So, if you make a good urban mobility plan and look at the infrastructure and if it's a good infrastructure, we will use it."
BC: Cargo bikes are being celebrated in the media as something new, as an innovative saviour from the traffic chaos. But, in reality, they were a common sight on the streets of Germany at the turn of the last century. And even today, cargo bikes are used for private and commercial transport all around the world. Does that mean we are suffering from some sort of dementia or egocentrism?
CP: No. We're just human. I call it, "one car less every day". That's exactly where we find ourselves today!
About the expert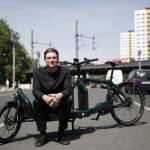 Colin Pöstgens was born in Münster. He is a passionate cyclist, and has a Bachelor of Science in Spatial Planning. Together with his colleagues Wasilis von Rauch and Arne Behrensen (cargobike.jetzt), he has been organizing the Cargobike Roadshow since 2015. The roadshow visits seven cities and regions where cargo bikes are still quite hard to find, and lets visitors test-ride around twelve different models of cargo bike. In addition, he has been involved in citizens' initiatives and charitable associations in the cycling industry for many years, as well as professionally. Photo © Katja Täubert
More about "Cargobikes" in Urban Independence Magazine