Cargo in the Slipstream – Testing the TIGGO Bike Trailer
What can you do if you don't want to commission messengers for every single transportation? Bike Citizens has tested the Tiggo bicycle cargo trailer.
The starting situation: People often need something that can be used to easily and conveniently carry at least two cases of beer and other purchased items. A backpack most often is not big enough to fit everything in, and you can't do it all alone or all at once. Buying a cargo bike yourself might not be necessary, because of the irregularity of such big purchases, and constantly sending a messenger might not be your first choice.
The solution: Buying a bike trailer – preferably, one which can be used by several people, which is not extremely expensive or special, and which you can easily store in an apartment or basement.
The Tiggo Bike Trailer – External Values
From the researched selection, the 11 kg, two-axle bicycle cargo trailer by Tiggo seemed to be the best option for the above mentioned requirements. Theoretically, it met all of the criteria – its dimensions are compatible, it can be folded and should therefore be relatively easy to store, and its price is in a range that is acceptable for these needs. The latter was ultimately also decisive for the decision to test the Tiggo bike trailer, because the alternatives were all significantly more expensive, with prices between 200 and 300 Euros.
With its tubular steel frame, the Tiggo looks very massive and strong at first, but its stated maximum load weight of 45 kg is a little disappointing. This is probably due to the plastic plate as a loading area, which might be able to be replaced with a more stable wooden or metal plate for a heavier load – as self-construction. The manufacturer itself does not offer any retrofitting or upgrading options.
The assembly on the wheels is very simple and fast, the trailer coupling works universally for any conventional rear axles and it's included in the delivery.
In addition, you can easily make the Tiggo transportable and storable in just a few steps. To do this, you need to dismantled both wheels, pull out all the security anchors, and all the side panels will fold into a convenient size.
Unfortunately, even before the first use – during the first assembly of the trailer – the first deficiency appeared. A security anchor which fixes the drawbar on the trailer broke during installation and has not been usable since. Fortunately, the drawbar is doubly secured and can also be held in place with only one active anchor. So far, all the loads have reached their destination safely and soundly, and all the other security anchors also work just fine.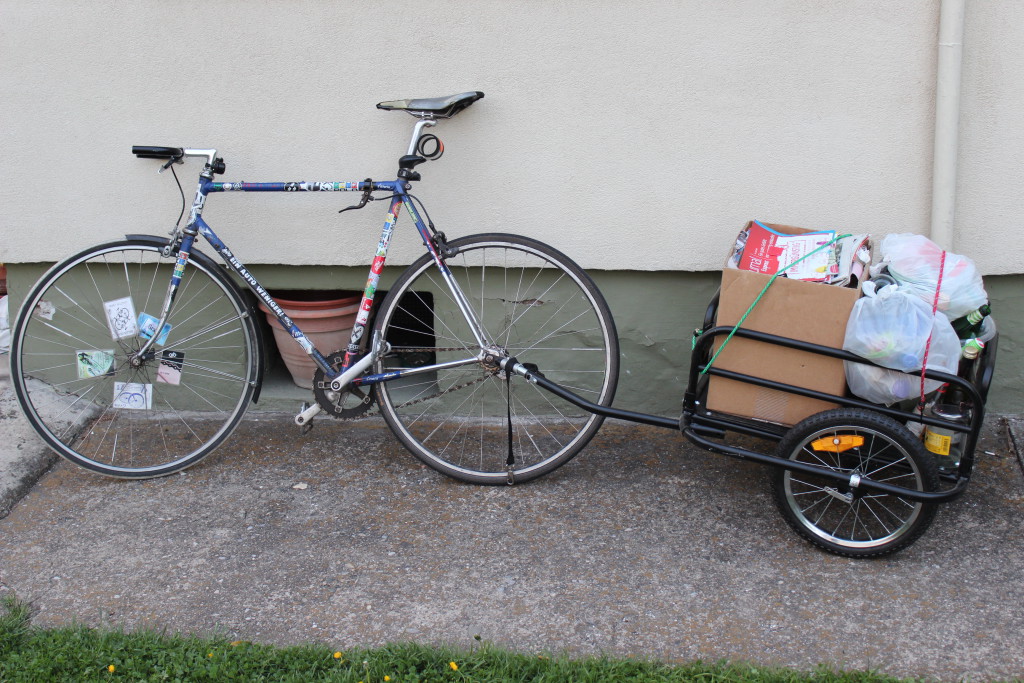 The bicycle trailer is very practical for everyday duties – fully loaded to bring down the waste. Image © Bike Citizens
Driving Pleasure (Only) with a Full Load
Once installed, the unloaded bike trailer can be pulled nice and easily, and it doesn't jump when riding over potholes or curbs. Due to the foldable quality of the trailer, the frame is not all one piece, of course, so it's a little shaky and has a little play to it, which causes a constant clanking and rattling. But it basically stays on track well; you don't even realize that you're pulling something behind you.
This changes, of course, once more weight is placed on the trailer. The acceleration and braking feels much slower and more difficult than is normal, but that's the case with all trailers.
The Tiggo bicycle trailer is perfect to transport equipment for short day trips, for waste disposal and for those big shopping trips for the next garden party. The cargo area itself is not overly large, but since the front and rear cage side can be folded, you can transport longer objects if you use the right belt and clamping technology. Of course, it isn't protected from rain or wetness, unfortunately. It should therefore only be used in dry weather; otherwise, you'll have to get creative, like with the loading area.
Result of the Tiggo Bicycle Trailer Test
All in all, the bike cargo trailer by TIGGO is a practical helper for everyday life, and it offers a very good value for money for this purpose. For use on long bike rides or to transport heavy goods, though, it is not recommended in its original condition.
Dimensions: 69 x 73 x 49 cm (Lenght x Width x Height)
Loading area: 63 x 42 (Lenght x Width)
Dimensions when folded: 69 x 73 x 17 cm (Lenght x Width x Height)
Weight: 11 kg
Wheels: 16″
Price: 79.90 euros