The Altbaukriterium – Indoor Bike Racing from Muchar
Bike Citizens met up with Bernhard Kober, the inventor of the Altbaukriterium – the only bike race in the world to be held inside apartments. Since September 2014, "Muchar" has also operated a workshop based on the principle of upcycling.
Bernhard's passion for all things bicycle had somewhat unusual beginnings. A person's enthusiasm for bicycles doesn't normally begin with the invention of a new competitive discipline. But that is exactly what happened with Bernhard.
A trained optician, Bernard invented the Altbaukriterium five years ago together with his flatmate Christoph. As the term suggests, this is a bike race that is held in spacious apartments. The bike race consists of two heats, each 2 minutes. Whoever completes the most laps within two minutes, wins.
Invention of the Altbaukriterium
A freshly patched tubular tyre, poor weather and a sparkling 1970s Peugeot he'd been given as a present resulted in Bernhard testing his bike in his apartment rather than on the street. After several attempts, he managed to make a turn in the small kitchen. He and Christoph decided to organise a race. That was in 2009. The 50th Altbaukriterium (or 51st, Bernhard didn't know exactly any more) was held on 25 April 2015.
World Syndicate and World Cup
Right after the first race, the two men decided to start a World Cup. And so the World Apartment Cycling Syndicate was founded. The six best from each race receive competition points and can wear the famous tubular tyre for this night. Each participant in each city is given competition points, which enables cyclists from other cities to join the world ranking. In order to legitimise the World Cup, it was therefore very important for Altbaukriteriums to be held in other cities as well. Who achieves the maximum points at the end of the season is the winner of the world cup.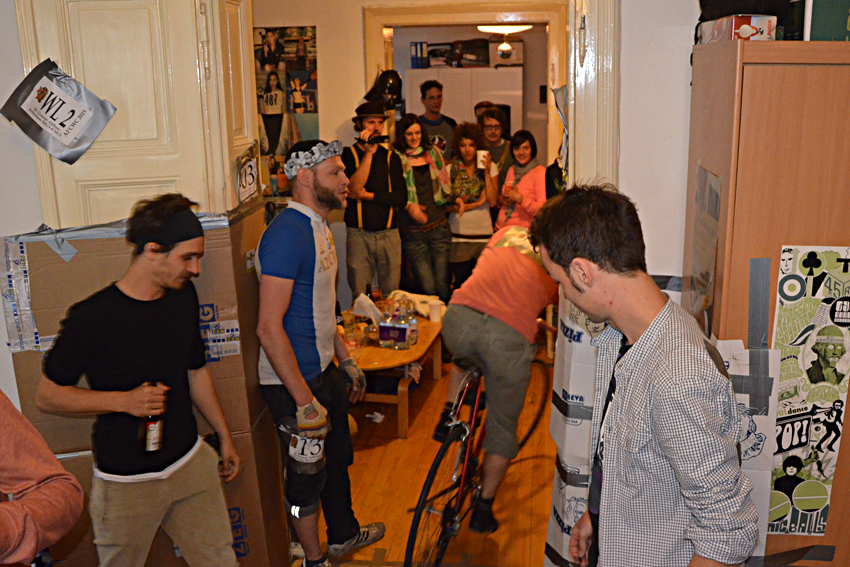 London old people's home criterium
At the 2012 Bike Film Festival, which was hosted in London and 26 other cities, a film from Christoph was screened about the Altbaukriterium. Afterwards, a London bike courier got in touch with Bernhard. After some brief correspondence by email, Bernhard flew to London a week later with four others and two bicycles. Unlike in Graz, the race there was pretty "underground". "It was held in an occupied old people's home between familied, occupants, punks and drug addicts."
Bike racing in Toronto
Bernhard is also especially proud of the "first race on American soil". People cycled in circles in a pub in Toronto, and Bernhard and Christoph where also there. The very first entrant flew head first out of the pub through the glass door. Thank goodness nothing serious happened to him. Back into the saddle and on you go! "It looked to me like he hadn't braked at all on his fixie."
The ideal bicycle
When asked about the ideal bike for the Altbaukriterium, Bernhard answers: "The bike you ride the most. The one you know well. The key to success is simply cycling lots." It also depends a lot on the route: BMX bikes are good on tight, twisting routes, but a bit bad if there's a longer straight section: "You can get up to 30 km/h. That's not exactly ideal on a BMX." Every bicycle is allowed though, as you can see in the picture.

Altbaukriterium for the Olympic Games!
Bike races had already been held inside spacious apartments in Munich, Vienna and Oldenburg. The race in Oldenburg was the first at which Bernhard wasn't present. "It also worked out so well because we sent you the timekeeping software." He had no fear of being imitated: "A journalist once asked me what I would do if it was imitated. I said: That would be great because it means the idea is so good that lots of people want to do it." To the obligatory question about the future of the Altbaukriterium, Bernhard answers as he always does: "Olympic Games."
Everyone is welcome at the criterium. Entrants should register in plenty of time, because the 25 starting places are highly sought-after and quickly filled.
Bicycle workshop and dashing city bike
Bernhard's passion for bicycles began five years ago with the start of the Altbaukriterium. Back then he built himself a fine city bike out of an old Puch Clubman because bikes were "unfinanceable". He promptly won a prize in Vienna with it in the vote for the most beautiful bicycle in the city. His own workshop was still a while off, but a spark had been lit. However, because his 23 square metre apartment was packed to bursting with 15 bicycles, Bernhard simply had no other choice: "I knew that I had to open a workshop."
Bernhard has had his workshop and bicycle sales outlet Muchar Upcycles on Schillerstrasse – between Kunstuni and TU Graz – since September 2014. Symbolically, it's a very good place for a workshop that follows the concept of upcycling: a place where an elegant appearance meets sustainable and solid production.

Giving old parts new purpose
Upcycling isn't just about recycling, i.e. reusing discarded parts, but about raising products – mostly bicycles in this case – to a higher-quality condition than they had when the original product was sold: "Making something that was rubbish for our society into something that is better than when it was sold."
The concept of upcycling counters the all too often heard notion: "Throw it out and buy a new one". "If you think about how much energy flows into, for example, the production of bicycle frame: the ore has to be ripped from the mountain, steel has to be made and the frame has to be produced from it," then it makes sense to reuse old parts.
In the best case scenario, an "upcycled" cheap bike that lasts a couple of years with all its poorly installed parts will become a bicycle for life. Everyone profits from that: producers, consumers and above all the environment. Because in our throwaway society, returning for repairs is certainly one of the most sustainable options.
Muchar Upcycling is also a perfectly normal bicycle workshop. All kinds of repairs can be made to bikes here. "And if someone really wants to buy a new bike, they can also buy one from me. I can order everything necessary."
Image © thepooldiariesvisuals Flickr
Discover the world of Bike Citizens > magazine.bikecitizens.net