The Bike Defilee at the Milan Fashion Week
For the first time the bicycle entered the traditional catwalk at the Milan Fashion Week and brought dynamism and design to the streets of Italian's international fashion capital. Ludovica Diligu, cycling passionate designer and founder of Labo.Art, is sharing her thoughts on fashion and cultural change. Story by Pinar Pinzuti, Bike Citizens reporter based in Milan.
I live in Milan, in the capital of fashion, but I've never seen a fashion show in my life. I only recognize the posters on billboards when I 'm riding home or to work by bike. They let me know: "Ah, traffic week arrives." But a video I saw on social media channels, announcing the latest show, changed that completely. For the first time I was not only interested in a fashion show. I wanted to see the show of the famous brand Labo.Art at all costs. Why?
The established fashion brand Labo.Art, presented its 2018/19-fall/winter collection in an experimental way. During the Milan Fashion Week, from 20 to 25 February 2018, Labo.Art switched the salon and catwalk to the street. The brand showed the collection with a performance of fashion art created in cooperation with Milan's historic bicycle manufacture Taurus.
The LABO.ART MILAN BIKING SHOW paraded pedaling through the streets. Seven models presented fashion on seven bikes that were especially created for this fashion show.
Here is what Ludovica Diligu, creative mind behind the show, designer and founder of Labo.Art reveals to me:
Pinar Pinzuti: Ludovica Diligu, why did you choose the bicycle?
Ludovica Diligu:       Einstein used to say that life is like riding a bike: To stay in balance you have to move. This is one of the phrases that have accompanied me throughout my life and I find that it well represents my company. Cycling has always been my favorite, refined and sustainable means of transport. It is a symbol of dynamism, simplicity and authenticity. Just like our company that is always in constant motion, without ever forgetting the roots and values ​​that distinguish our brand and characterize all collections and Labo.Art projects – the essence of our being: Clean and essential aesthetics; absolute quality of materials; made in Italy.
Pinar Pinzuti: Is Milan a bike-friendly city?
Ludovica Diligu:       Milan has taken great steps forward to support the use of bikes. Just think of the increase in cycle paths and the various bike sharing services! But there is still a lot to do. I am sure that our idea of ​​cycling the collection through the streets of Milan, will give the public the surprise of enjoying the liveliness and uniqueness of our fashion proposal. It will contribute in a very positive way to this important aspect for the quality of life of citizens.
Pinar Pinzuti: How is the new collection of Labo.Art – is it bike-friendly?
Ludovica Diligu:       Labo.Art is an established brand – not only in Italy, but also in the main markets all over the world. Our garments are designed and manufactured with a precise architectural matrix, great attention to volumes and an extraordinary sensitivity and research on materials and colors. But: Labo.Art neither was born as a cycling clothing brand nor does it want to become one. For this initiative Labo.Art and Taurus met on the road of design. They share a clean and minimal aesthetic practicality and quality as well as modernity, without forgetting their historicity. In confirmation of this, I guarantee that I am, who always and only goes around by bicycle, always and only dressed in Labo.Art.
About the show
The Bike Defilee started every day during Milan Fashion Week from Labo.Art.Gallery. It crossed the innovation design district, the area between Porta Nuova and Porta Volta that looks at experimentation and creativity. It continued in the streets of the fashion district – right in the middle of the heart of the Milan Fashion Week!
Fashion and cultural change
Labo.Art is not a cycling brand. Though it was the first brand that chose the bicycle as the means of communication and representation for its clothing line in the universe of fashion. The brand decided to use the streets – the public space – as the catwalk. I believe that the presence of the bicycle in every aspect of our lives plays a significant role for a cultural change. Hopefully this show will inspire other brands to interpret the bicycle as an essential "daily accessory" for a trending urban lifestyle and life quality. Fashion brands should use chic bicycles not only in their advertisements. They shall integrate them in their company vision!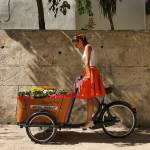 About the author:
Pinar Pinzuti  is a digital marketing expert, story teller, idea generator, philologist, pedagogue, yoga instructor, activist and blogger. She lives between Turkey and Italy. In her blog "bisikletizm" (aka. bicyclism in Turkish), she shares her daily commutes by bike, cycling tours in all around the world, writing about what needs to be done for increased and safer cycling in urban areas.