Velo-city 2016 Taipeh – From Bicycle Industry powerhouse to cycling paradise
Rory Mcmullan, UK City Agent at Bike Citizens, was at the Velo-city 2016 in Taipei. Here is what the cycling advocate reported about the bicycle fair.
Kingdom of the Bicycle
Taiwan promotes itself as the 'Kingdom of the Bicycle' celebrating the island's eminence in the global bicycle industry, rather than cycling culture. Taipei hosting Velo-city 2016 signals a shift, as leading politicians now aspire to turn Taiwan into a 'Cycling Paradise'.
The Velo-city 2016 Taipei was held in conjunction with 'Taipei Cycle, the leading global bicycle trade show, and succeeded in integrating the bicycle industry, planning and advocacy into one event. This may seem like a natural coalition, but up until this month, the worlds of industry and advocacy have remained largely separate.
Giant's CEO, Tony Lo, in his keynote address noted that with over 4 billion non-cyclists around the world, supporting advocacy represents an investment in creating a bigger market. John Burke, Trek's CEO, introduced a score card for bicycle companies, and gave the cycle media the job of holding them to account.
John Burke Challenges:
1. Is your CEO actively involved in creating a bicycle friendly world?
2. Would advocacy groups say your company supports their efforts?
3. Is your company actively educating government about the benefits of cycling?
4. Has your company transformed or working towards making your home cycling friendly?
Velo-City is the annual global gathering of professionals working to create bicycle friendly places, an objective for which Taiwan has made significant progress in recent years.
Bike Sharing in Taipei
The U-Bike share system in Taipei has among the highest usage per bike of any in the world. Vicky Yang, CEO of the U-Bike, noted however that they have no plans to enter the European bike share market, instead preferring to focus resources on East Asia. This makes commercially when one considers that of the million shared bikes in operation globally; China alone has almost 75%.
For city cycling, safety is the essential key, and there is still plenty of room for improvement on the cycle lane network in Taipei, where they exist they are mostly on pavements. Taipei trails Kaoshiung (the capital of southern Taiwan) for both the number of cyclists and total length of the cycle lane network.
Scooters- the "most democratic vehicle on earth"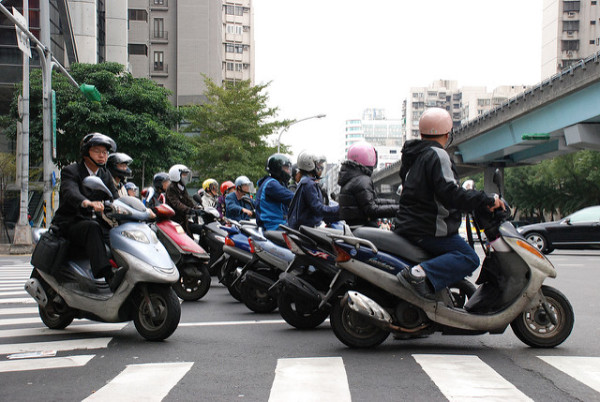 Taiwan has focused much effort on leisure routes, and the energetic Hsin-Wen Chang who was instrumental in bringing Velo-city 2016 to Taipei, reported that the 1000+km 'round Taiwan Cycle Path, which circles the island, is now complete. The motorised scooter is the 'most democratic vehicle on earth'; incredibly efficient in space and cost, convenience and speed, it is no surprise that powered two wheelers have up to 70% modal share in some places in Taiwan.
Despite this two-wheeled habit, promoting active travel isn't easy. Parked scooters occupy the pavements making it hard to walk, and in the heat and humidity of this tropical island, most people choose motorised power over pedal power.  Scooters are of course significantly better than cars, but cause problems over parking, air and noise pollution.
One of the most interesting initiatives therefore is the Scooter Share Programme recently launched in Chiayi, a medium sized city in the south. Using e-bikes, and managed like a bicycle share programme, this is one of a number of e-scooter share programmes springing up around the world. Scooter Share may not make people more active, but if it can help clear space for bicycle lanes, it will play a role.
The event was closed by the independent Taipei Mayor Ko Wen-je, who instead of opening the event chose to mark the 2/28 massacre of native Taiwanese by the incoming Kuo Ming Tang, by cycling from the northern to southern tip of the island as an expression of unity. This incredible man completed the 500 km trip in just 27 hours.
Since Taiwan has political leadership, the technical know-how, and vision to become a 'Cycling Paradise', the future seems very hopeful.
Foto © Andreas Stückl  © Johnny Vulkan on Flickr